Tucker Sargent
Evening Anchor
Email Tucker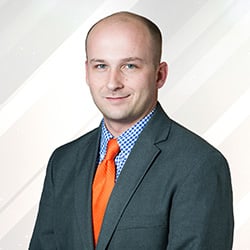 (478) 745-4141 ext. 310
Tucker Sargent, a veteran journalist who joined the 41NBC news team in 2012, currently serves as an evening anchor on 41NBC News at 5, 5:30, 6 and 11.
Born and raised in Alabama, he grew up near Auburn before moving to North Alabama and graduating from Danville High School in 2007. He holds a Bachelor of Science in Broadcast Journalism from Troy University, which he earned after completing an internship at WAAY-TV in Huntsville.
Tucker started his career at 41NBC as a news and sports reporter before leading the station's sports coverage for several years. He's covered significant events such as Mercer basketball's upset of Duke in the 2014 NCAA Tournament, the 2020 College Football Playoff National Championship Game and multiple visits by the President of the United States. He's also responsible for 41NBC's weekly Restaurant Report Card, which provides coverage of local food service inspection scores.
A passionate sports enthusiast, Tucker is a fan of the Auburn Tigers and Troy Trojans. In his free time, he enjoys spending time with his wife Jessica and their two young sons. He also enjoys watching college football on Saturdays and NASCAR on Sundays.
He takes pride in calling Middle Georgia home and is always searching for new, engaging story ideas. If you have a story to share, feel free to reach out to him on Facebook and Twitter. You can also email him at tsargent@41nbc.com.