Unstable weather pattern rises rain chances for the weekend
MACON, Georgia. (41NBC/WMGT) – Moisture from the Gulf of Mexico continues streaming over the southeast while a cold front approaches from the northwest.
Both these systems will effect our weather in Middle Georgia this weekend.
Friday, deep southwesterly flow will transport tropical moisture over the deep south. It will be more cloudy than sunny, feel hotter than the actual temperatures due to high humidity, and we'll also have scattered pop-up showers and storms in the late afternoon and evening hours.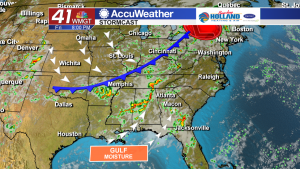 Heading into Saturday and Sunday, the cold front will approach the Deep South. Cooler, drier air will cause all the warm and moist air over the southeast to rise and condense.
For this reason, rain chances will be higher with more widespread showers and thunderstorms developing throughout the two days.
The cold front will likely stall out before clearing Middle Georgia, keeping moisture across the area.
Because it will be cloudier and more rainy, temperatures will stay below normal (92 degrees).
Next week, temperatures and rain chances will bounce around next week as the unstable weather pattern continues.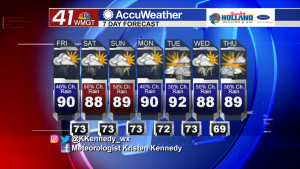 Connect with Meteorologist Kristen Kennedy on Facebook and Twitter for weather updates throughout the day. You can also watch her forecasts Monday through Friday on 41NBC News at Daybreak (5-7 a.m.) and 41Today (11 a.m.).