Drier air returns to Middle Georgia, temperatures trend upwards
MACON, Georgia. (41NBC/WMGT) – The first week of October will be much drier than the last week of September in Middle Georgia as drier air slips down south.
Monday morning will start with a bit of cloud cover, but more sunshine is expected throughout the day.
Temperatures will rise from the upper 60's in the early hours of the day to the middle and upper 80's during the afternoon.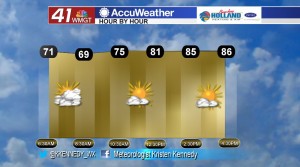 A ridge of high pressure will be building up over the mid-Atlantic states this week.
This system will allow for drier air to filter into the Deep South mainly from the east.
Overall, this week is looking mostly dry but a stray shower will be possible in Middle Georgia through mid-week.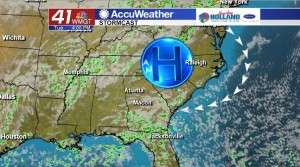 With drier air in the region, humidity will be lower, and rain chances will be limited.
Drier air heats up quicker than moist air. While we'll catch a break from the humidity this week, we won't really get much relief from the heat.
Temperatures will trend upwards back into the 90's by the end of the week.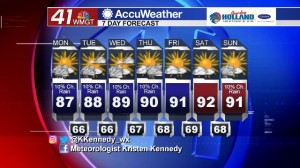 Connect with Meteorologist Kristen Kennedy on Facebook and Twitter for weather updates throughout the day. You can also watch her forecasts Monday through Friday on 41NBC News at Daybreak (5-7 a.m.) and 41Today (11 a.m.).