Bibb deputies investigating hit and run at downtown gas station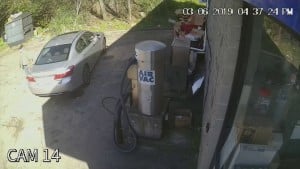 MACON, Georgia (41NBC/WMGT) – A man was hit by a vehicle while pumping air into his tire outside a downtown gas station Wednesday afternoon.
It happened around 3:45 at the Marathon Food Gas Station, located at 277 Walnut Street, according to a news release from the Bibb County Sheriff's Office.
Deputies were told 54-year-old Jeffery Bruce was pumping air into his tire when a man backed his vehicle into Bruce's vehicle, pinning Bruce between the two vehicles.
The driver then drove away.
Bruce is listed in stable condition at the hospital.
Deputies are looking for a dark-colored Honda. The driver is described as an elderly white man with a white beard. Deputies say he may not realize what happened.
Call the Bibb County Sheriff's Office at (478) 751-7500 or Macon Regional Crimestoppers at 1-877-68CRIME if you have any information.