UPDATE: Monday's Severe Weather Threat in Middle Georgia
MACON, GA. (41NBC/WMGT) – We are continuing to watch a storm system to our west in Alabama this morning. A cold front is firing up showers and storms, some of which may turn severe. There is already a Tornado Watch in effect for southeastern Mississippi and southwestern Alabama. A Severe Thunderstorm Watch has been issued for central Alabama, south of I-20. These storms will be moving into Middle Georgia today.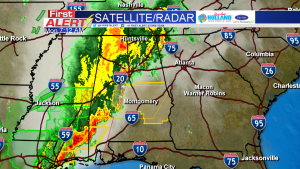 The Storm Prediction Center (SPC) has placed Middle Georgia in an enhanced and slight risk for severe storms. The enhanced risk stretches just east of I-75 (shaded in orange). This area has the greatest risk for severe storms. Along I-16, there is a slight risk from severe weather, meaning scattered severe storms are possible.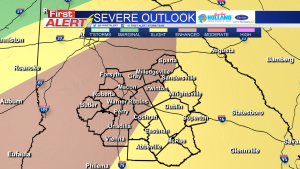 As the storms move into Middle Georgia, damaging winds are the primary threat. Winds 60-80 mph are possible as the squall line moves through. Winds this strong could down trees and power lines. Large hail up to 1.5 inches in diameter is also possible. A few tornadoes can not be ruled out for the day, as well. Rainfall totals will range from about half an inch to an inch. However, where there are stronger storms, locally heavier rainfall is possible.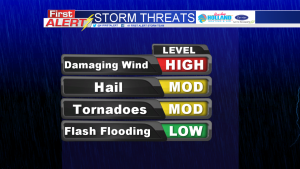 As far as timing, the latest model updates place the squall line in western Georgia around 1:30 p.m. The squall line should move into Middle Georgia around 2:00 p.m. The system will not be clearing out until close to 8:00 p.m.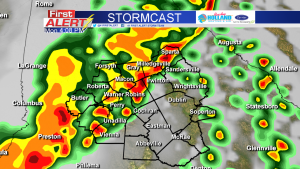 If you have a weather radio, turn it on to receive warnings. If you don't have a weather radio, you can download our 41 First Alert Storm Team App – it's FREE! Our app will give you access to the radar and you can also program in your location to receive severe weather warnings.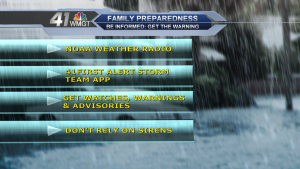 As always, the 41 First Alert Storm Team will bring you the latest updates on TV and online.