Temperatures trend closer to normal heading into the weekend
MACON, Georgia (41NBC/WMGT) – Spring in Middle Georgia means a roller coaster temperature pattern as frontal systems cause drastic changes to the weather.
Earlier this week, Middle Georgia had afternoon temperatures in the 50's after a cold front swept through the southeast.
A high pressure system will continue to bring cooler air from the northwest down south Thursday, but more sunshine will help temperatures climb into the low 60's.
Friday, the high pressure system will move over the Gulf of Mexico/Florida. Winds will shift to the west and southwest as warmer, more moist air flows back over the southeast.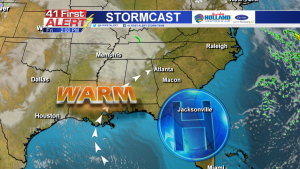 This warmer air mass combined with daytime heating will result in higher temperatures through Sunday. Temperatures will top out above average (71 degrees) this weekend.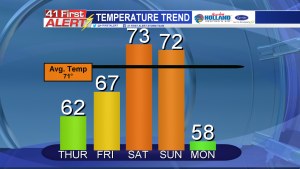 With the warmer air comes our next chance for rain. The high pressure system will shift east into the weekend as a low pressure system develops out west. A cold front will develop and isolated showers return to the forecast on Sunday.
After the cold front passes through Middle Georgia, colder air will surge south and temperatures will plummet back into the 50's early next week.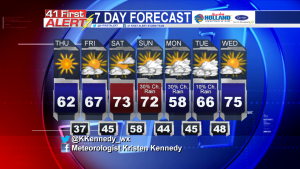 Connect with Meteorologist Kristen Kennedy on Facebook and Twitter for weather updates throughout the day. You can also watch her forecasts Monday through Friday on 41NBC News at Daybreak (5-7 a.m.) and 41Today (11 a.m.).