Temperatures climb back above average Wednesday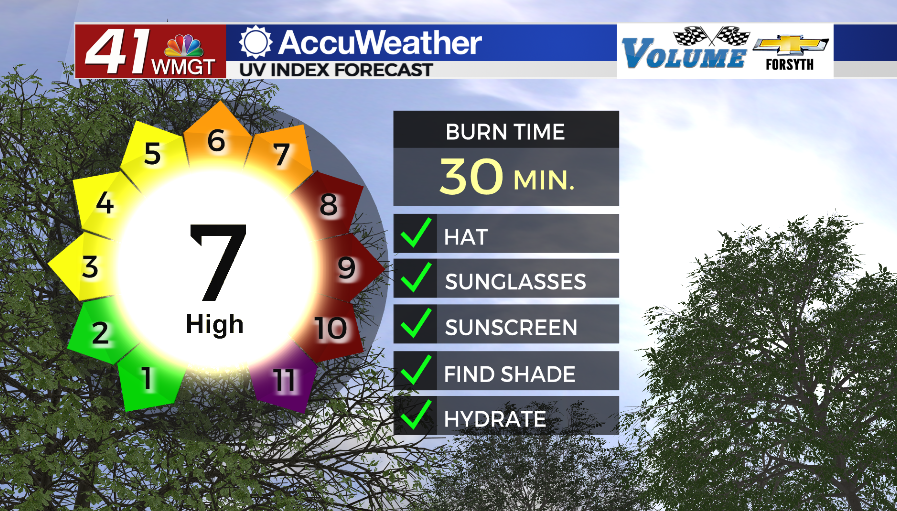 MACON, Georgia (41NBC/WMGT) – Temperatures will climb into the 70s this afternoon following a cloudy start.
Today

It was a warmer but cloudy start to the morning across Middle Georgia as most spots began the day in the mid 40s. Clouds will clear as we roll through the later morning hours with mostly sunny conditions expected over the back half of the day. Most spots in Middle Georgia will reach into the mid to upper 70s for highs today (for Macon the average high for the month of March is 70). Winds will generally blow from the south at around 5 mph. Middle Georgians might want to think about keeping some sunblock handy as things warm up and days get longer.
Skies will be clear heading into tonight before some low level clouds fill in ahead of the sunrise tomorrow. Given low temperatures and dew points in the lower 50s for most of Middle Georgia overnight along with relatively calm winds from the southeast some fog is also likely tomorrow morning as well.
Tomorrow

Temperatures will soar Thursday afternoon as sunshine dominates the Middle Georgia sky. Highs will likely reach the mid 80s for most of the region with southwesterly winds blowing in at 5-12 mph. Gusts could reach upwards of 20 mph. Cloud cover will be limited to a few scattered cumulus cloud fields during the middle of the afternoon.
Clear conditions will carry into tomorrow night before low level clouds develop ahead of the sunrise. Due to increased overnight winds, fog will be harder to come by heading into Friday morning. Temperatures will bottom out in the mid to upper 50s.
Friday and Beyond

Friday will also be sunny and warm for the most part before some clouds begin to arrive in the evening. Rain is likely after midnight across Middle Georgia with storm activity potentially hanging around until almost noon on Saturday. Skies will try to clear out a bit Saturday afternoon, and Sunday should start off relatively sunny before clouds return in the afternoon with rain likely in the evening and overnight.
Follow Meteorologist Aaron Lowery on Facebook (Aaron Lowery 41NBC) and Twitter (@ALowWX) for weather updates throughout the day. Also, you can watch his forecasts Monday through Friday on 41NBC News at Daybreak (5-7 a.m.) and 41Today (11 a.m).