Small risk for strong/severe storms in Middle Georgia Thursday
MACON, Georgia. (41NBC/WMGT) – Strong to severe storms will be possible across the southeast Thursday afternoon with a small risk here in Middle Georgia.
The Set-Up:
A stalled cold front is acting as a boundary between dry and cool air to the northwest and very warm and moist air in the Deep South.
Meanwhile, a high pressure system is sitting over the Gulf of Mexico pumping moisture northeast over the Deep South.
With the added energy from the sun and daytime heating, a couple lines of storms may develop from west to east.
There's a good chances that these storm lines will break apart when moving into Middle Georgia, but some strong or severe cells will still be possible.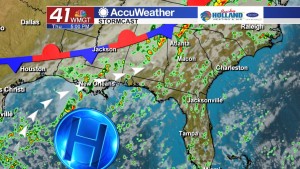 Area & Threats:
As of Thursday morning, the Storm Prediction Center had only the far northeastern corner of Middle Georgia under a Marginal Risk (1 out of 5 on the threat level scale).
It is important for all of Middle Georgia to be prepared for the possibility of a few severe storms this afternoon, however. In my meteorological opinion, the isolated severe storm risk should be stretched farther west to include our western counties (Taylor, Crawford, Monroe) as the line of storms will likely deteriorate as it moves east.
The main threats with any strong or severe storms will be damaging wind gusts (40-60 mph), frequent lightning and small hail. The tornado threat remains very low, but it cannot be completely ruled out.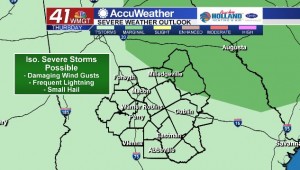 Timing:
Isolated showers and storms will likely start popping up across Middle Georgia in the early afternoon. Line of storms may arrive as early as 3 p.m, exiting Middle Georgia by 8 p.m.
Next Week:
The rainy and stormy weather pattern will continue throughout the weekend.
Heading into the next week, drier and cooler air will dip down south as another cold front actually clears Middle Georgia.
Temperatures are forecast to take a dip into the 80's for a minor break in the summer-like heat.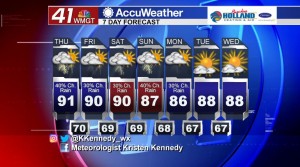 Connect with Meteorologist Kristen Kennedy on Facebook and Twitter for weather updates throughout the day. You can also watch her forecasts Monday through Friday on 41NBC News at Daybreak (5-7 a.m.) and 41Today (11 a.m.).