Mercer's dream season comes to an end with 83-63 loss to Tennessee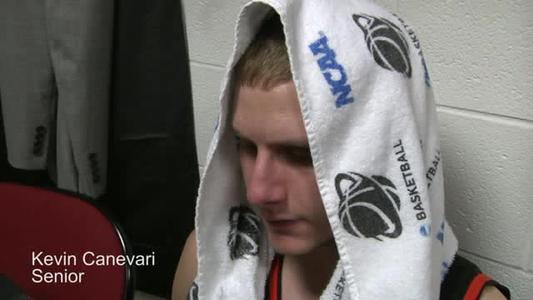 RALEIGH, North Carolina (41NBC/WMGT) – Tennessee jumped out to an early lead and never looked back, cruising to an 83-63 win over Mercer Sunday.
The Bears knocked off a talented Duke team on Friday in the biggest upset of this year's tournament, but the 11th-seeded Vols proved too tough to handle.
"It was our goal to get here," Kevin Canevari, one of Mercer's seven seniors who garnered national attention after his dance Friday, said in the locker room after the game. "We had an upset on Duke, which was good. We just couldn't get it done tonight, but I still love all my brothers."
Josh Richardson had 26 points for the Vols, who advance to play Michigan in the Sweet 16. Jarnell Stokes had 17 points and 18 rebounds.
For 14-seed Mercer (27-9), Langston Hall had 15 points.
Ten busloads of Mercer students made the trip to Raleigh and stood the whole time, chanting "I Believe That We Will Win" in the final minutes even when it seemed like all hope was lost.
"The fans were amazing, driving seven or eight hours to come see us play," Ike Nwamu, a sophomore said. "Really supporting us throughout the whole entire game. We love them for that. We couldn't have been here without them."
"The fans were unbelievable," Bud Thomas, another senior, says. "We owe them a lot of credit. It makes it even a little bit tougher because we feel like we let them down. They came so far, all the sacrifices they made for us, we owe them a lot. They were unbelievable tonight. They were loud, and against Duke as well, they were top notch out there. It was a very special feeling."
The Bears' win over Duke on Friday was the school's first ever NCAA Tournament win.
"Six years ago, nobody would have believed it could be done the way they did it," Bob Hoffman, head coach, said. "And to do it with the kind of class they have puts it even to another level. I'm fortunate and blessed I got to coach these guys, and they're going to be remembered forever."