Gov. Nathan Deal declares State of Emergency ahead of Michael
MACON, Georgia. (41NBC/WMGT) – Governor Nathan Deal has issued a state of emergency for 108 of the state's 152 counties ahead of Hurricane Michael's arrival this week.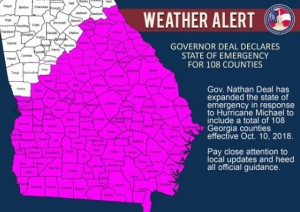 The declaration was made based on the latest forecast from the National Hurricane Center regarding Hurricane Michael's forecast path and intensity as it moves into the state of Georgia. The Georgia Emergency Management and Homeland Security Agency (GEMA/HS) officials also recommended Governor Deal to make the declaration.
This means that the state is activating all of its resources to make sure people are safe ahead of the hurricane.
The Governor's office reports that Wednesday morning "Deal activated 1,500 Georgia Guardsmen to be placed on standby and deployed as needed to areas affected by the hurricane."
Governor Deal released a statement that reads:
"This is a dangerous, dangerous hurricane and I urge those in Hurricane Michael's forecasted path to be prepared, stand vigilant, and be ready to help their neighbors. At the state level, we are mobilizing all available resources to ensure public safety and coordinating with federal, local and private sector partners to position resources around the state. This hurricane has potential to do serious damage in Georgia communities and at this time, we are encouraging those in the hurricane's forecasted path to make whatever preparations are necessary. Protecting the lives of families and those who need assistance, including those evacuating from neighboring states, is our primary concern. Georgians are great people who reach out to help their neighbors in times of need, and this will certainly be one of those times for some parts of our state. I once again ask all Georgians to join me in praying for the safety of our people and all those in the path of Hurricane Michael."
You can read the executive order by clicking here.