Christmas Eve brings storms during the day, cold by night
Hope you enjoyed the sunshine and warm weather today because by tomorrow that will all be changing.
A strong cold front is already pushing across the southeast this evening bringing gusty winds and heavy rain as it pushes east.
Beginning tonight we will start to see a few pre-frontal showers, some with heavy rain.
This is just to get us ready for the heavy rain and gusty winds that will come with the with the front starting tomorrow morning.
Timing for this line of storms in our area will be 8am-7pm.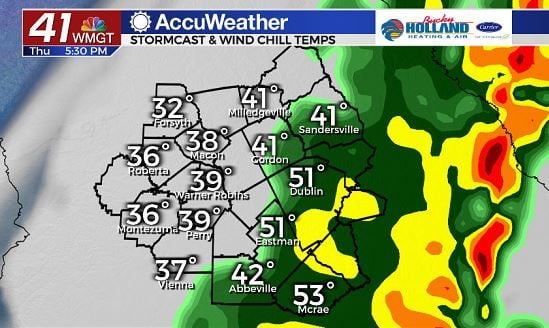 As the line of storms moves out we will see a very quick cool down.
You will know when the front has moved past your house tomorrow…
It wouldn't be impossible to see a few snow flurries on the back side of the front, but the better likelihood for flurries will be much farther north.
Main Impacts: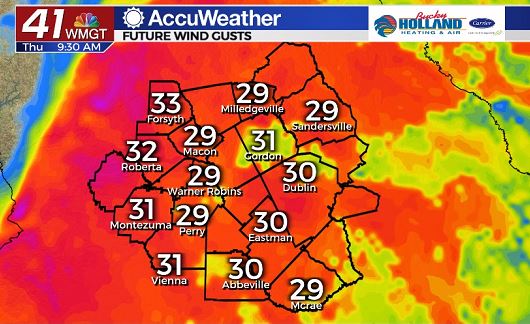 Gusty winds will likely be the most impactful of the threats from tomorrow's storms.
Gusts could reach up to 35-40 mph in some places.
If we get a severe storm embedded in the line, some isolated gusts could be higher.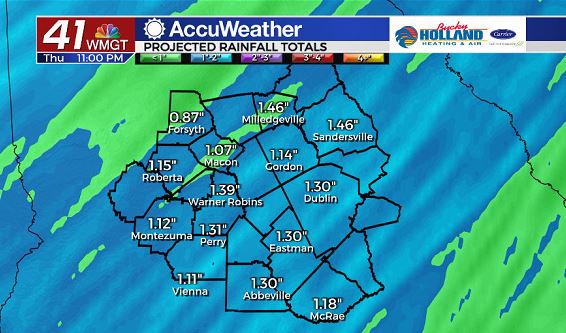 Heavy rain is going to be another impact that will effect any holiday travels through the day tomorrow.
Some parts of Middle Georgia could see up to 2″ of rainfall, but the average will probably be just over 1″.
This will definitely be a soaker.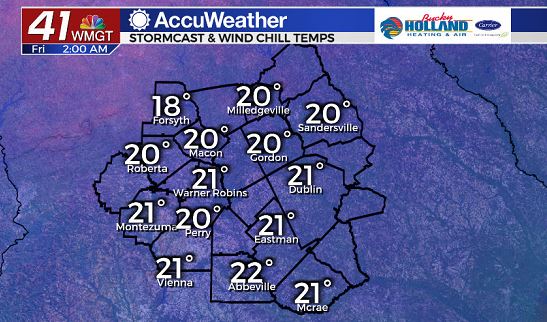 Behind the front comes the big cool down we have been talking about all week.
In the above graphic, those are the wind chills for tomorrow night (ugh!).
Be sure to grab a coat for any Christmas activities.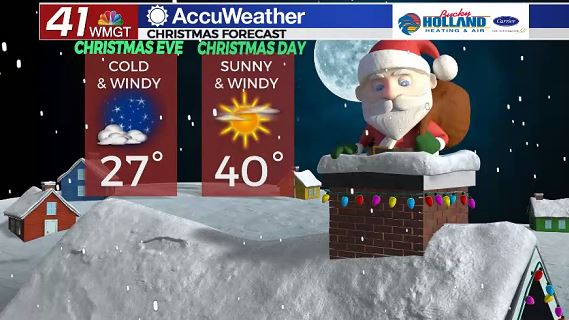 Christmas Day will bring the sunshine, but also the chilly temperatures.
Highs will be limited to the upper 30's and low 40's on Friday, but not only that, it will still be breezy with winds gusting to 20 mph.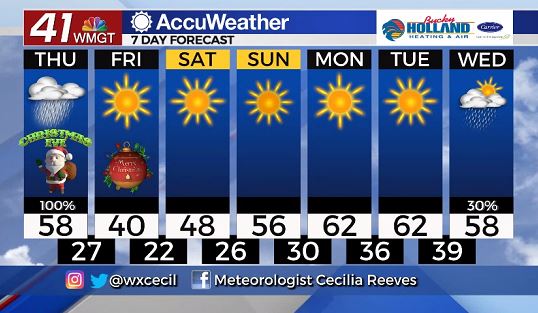 This weekend we will slowly start to warm back into the 50's by Sunday, with dry conditions sticking around.
Not seeing a significant chance of rain again until the middle of next week.
Stay safe out there tomorrow and have a happy holidays (I'll be back in on Monday!)