Woman shoots man trying to break into Warner Robins home
WARNER ROBINS, Georgia (41NBC/WMGT) – A woman shot a man trying to break into her home in Warner Robins early Friday morning.
Ashley Jackson, the homeowner, says she was trying to protect her three children.
"I'm going to take you before you can take them," she said.
27-year-old Martiez Holmes is charged with criminal attempt to commit burglary and giving a false name. He was released from the hospital Friday.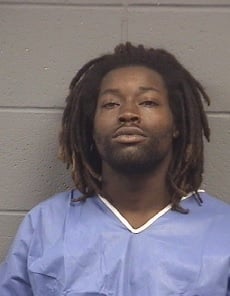 Jackson said she recognized Martiez but only met him a few times.
"I know him and we had never hung out alone and the fact that you're coming to my door late at night, who does that? In my opinion, there's only one thing you want and I'm not giving it up willingly," Jackson said.
She says she heard noises outside her window around 1 a.m., got her gun and went to figure out what it was. As she cracked open the door, she saw Martiez standing at the bottom of her front steps.
He walked toward her and tried to push the door open. That's when Jackson shot him in the stomach.
"He's got to go, it's either me or him," Jackson said. "I got three kids in there if I let him in there's no telling what could happen."
After being shot, Martiez ran away. The Warner Robins Police Department used Jackson's description of the potential home invader to track him down. They took him to the police department and then to the Houston County Sheriff's Detention Center in Perry.
Asst. Chief John Wagner, with the Warner Robins Police Department explained afterwards how someone can be justified to use deadly force.
"If you believe your life or a third parties life is in imminent danger of death you may use deadly force," he said.
The investigation into last night's incident looked at one thing:
"If you put yourself in [Jackson's] shoes would you do the same thing? We feel at that moment in time or as the case was investigated, yes, that's what would indeed happen," Wagner said.