Veterans soccer program raising money for better facilities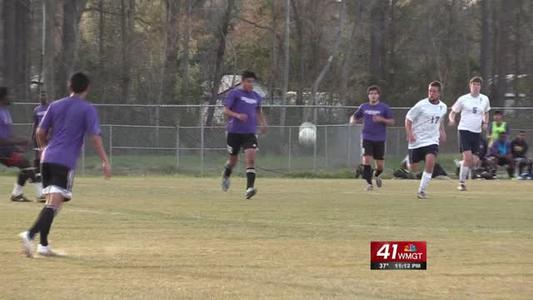 KATHLEEN, Georgia (41NBC/WMGT) – It's not often you see a college soccer match in Kathleen.
But that's exactly what happened Wednesday night, when Middle Georgia State College and Toccoa Falls College met up at Veterans High School for a spring scrimmage.
"We've got two former players on each team, actually," Matt Roth, Veterans boys head soccer coach says. "That was something that we worked on together with the coaches. They play these spring scrimmages, and we thought about having a little event here."
It's a unique opportunity for these high school kids–getting to see a college match in their own backyard, but it also serves as a fundraiser for their own program.
Right now, their concession stand is an old trailer the booster club bought for $250. It doesn't even have electricity. To cook food, volunteers use a generator.
Another need? A restroom. Right now, the team and fans have to walk about 100 yards to the baseball field for that.
"We've been working to try to get a concession stand built," Elaine Milteer, vice president of the booster club says. "We've been working to get the covered awnings for the kids to sit under when it rains, because sometimes it rains during soccer games."
Over the years, both the boys and girls teams have been dominant. In 2011, the boys advanced to the Elite 8 in the state tournament. In 2012, both the boys and girls made the Sweet 16. Last season, another Sweet 16 appearance for the boys. The girls made it to the Final Four.
"There was a lot of hard work that went into it," Erin Harbison, a senior says. "We were out here every day for a couple hours working at it, so it was nice that it paid off."
"We had to work a little harder this year," Cody Scarborough, a senior says. "We lost a couple seniors, but that's still not stopping us. We're still going to make it to the top."
Eight former Warhawks have gone on to play at the college level–not bad for a program that doesn't even have a locker room.
Milteer says Wednesday's event raised about $200, far from the amount the booster club needs to reach all its goals. They're also looking to buy another set of bleachers, by the way. The set they have now cost about $8,000 and was paid for with donations.
If you'd like to donate or become a sponsor, check out veteranssoccer.com.