Michael to become a hurricane today, will impact Gulf Coast and Middle Georgia this week
MACON, Georgia. (41NBC/WMGT) – Tropical Storm Michael is forecast to strengthen into a hurricane Monday afternoon and impact the Gulf Coast by the middle of the week. Middle Georgia can also expect to be impacted by the tropical system as it weakens moving over land.
Early Monday morning, Michael had increased wind speeds from 60 mph to 70 mph. The system was located just east of the Yucatan Peninsula and moving northward at 7 mph.
The latest forecast cone from the National Hurricane Center has Michael moving through Middle Georgia as a tropical storm late Wednesday into Thursday.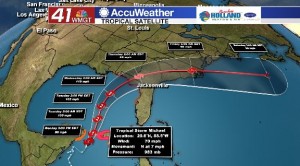 The forecast cone may change over the next 1-3 days as the system moves northward. The exact path and timing of Michael's arrival and impacts will depend on forward motion of the storm.
Models have been somewhat consistent in predicting anywhere from 3 to 6 inches of rain across Middle Georgia. Rain should arrive Wednesday and last until late Thursday night.
These rainfall totals in a short period of time may result in flooding across the area.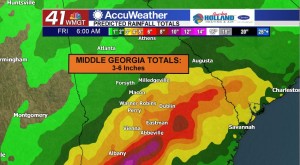 Another potential impact with the arrival of Michael is tropical storm force wind gusts.
Wednesday through Thursday, winds will be increasing in speed. Winds could gust anywhere from 30-60 mph.
Heavy rain will give way to moist soil. High wind gusts will likely result in some trees coming down and power also being knocked out across Middle Georgia.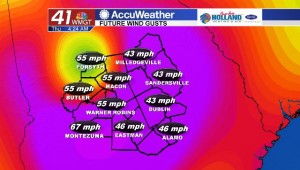 While the middle of the week is looking quite messy for Middle Georgia, nicer weather will follow Michael.
A strong cold front will drop temperatures to the low 80's in the afternoon and drop morning lows to the 60's and maybe even 50's.
Fall weather fans – REJOICE!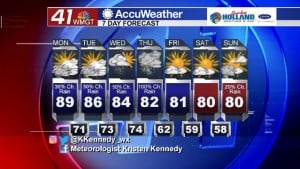 Connect with Meteorologist Kristen Kennedy on Facebook and Twitter for weather updates throughout the day. You can also watch her forecasts Monday through Friday on 41NBC News at Daybreak (5-7 a.m.) and 41Today (11 a.m.).