Three hurricanes churning simultaneously in the Atlantic Ocean
MACON, Georgia. (41NBC/WMGT) – Today, September 10, marks the official "peak" of the 2018 Atlantic Hurricane Season. On this day, there are also three hurricanes churning in the Atlantic Ocean, simultaneously.
Hurricane Florence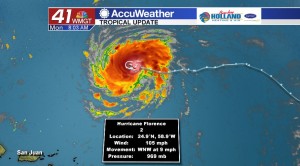 This morning, Hurricane Florence was registered as a Category 1 storm with sustained winds of 105 mph. Florence continues moving west/northwest at almost 10 mph.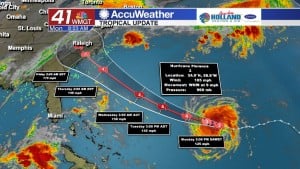 Forecast models are in better agreement that Florence will continue its west/northwestward track charging towards the east coast of the United States.
Florence is projected to make landfall along the coastal Carolina's late Thursday night into Friday morning as a major (category 3 or higher) hurricane.
Once Florence makes contact with land, it will begin to weaken significantly. Though, a stationary front along the east coast will cause the tropical system to stall out, giving way to flooding rains.
This system is still days away from making impact and could shift its path by the end of the week. A southward shift would result in more rain and perhaps some gustier winds in Middle Georgia, but for now, that does not look the case.
Hurricane Isaac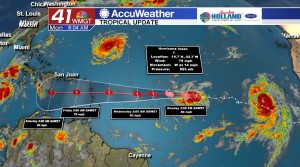 Behind Hurricane Florence, Hurricane Isaac is spinning out at sea with constant winds up to 74 mph.
Isaac was upgraded to a Tropical Storm Saturday, earning its Category 1 hurricane status late Sunday night.
Isaac does not look as organized as Florence, appearing much smaller in size.
Hurricane Isaac will likely continue moving westward, weakening as it passes the Lesser Antilles on its way into the Caribbean Sea.
Hurricane Helene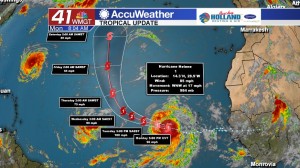 Behind Isaac is a better organized Category 1 hurricane, Helene, with sustained winds of 85 mph.
There is better news to report about Hurricane Helene regarding the path of the storm. Helene is forecast to continue moving west/northwest before curving north towards the northern Atlantic Ocean.
Some intensification is possible, but right now there is no impact to land expected.
Hurricane Safety & Preparedness Tips
Regardless of the severe weather threat, it is important to always be prepared for a disaster to occur. Hurricanes are known to produce extremely fast winds and heavy rainfall, but another threat is spin-up tornadoes in the rain bands moving over land.
Staying informed on the changing conditions is one of the first things people should to prepare for severe weather. Information on the topic and impacts to the local area will better help you get a plan in place.
That plan may include knowing what safety precautions should take place if you decide to stay or when you should evacuate and where you can go for shelter. Don't forget to plan for your pets, too.
Pack a safety kit with the following items:
One gallon of water, per person for at least three days
Three days worth of non-perishable foods
Flashlights and glow sticks, candles if necessary
First aid kit and weather radio
Extra batteries
The Department of Homeland Security provides more safety tips here.