The sunshine train is coming to an end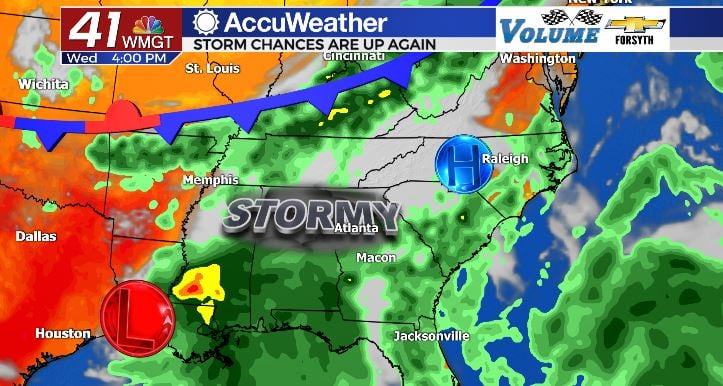 MACON, Georgia. (41NBC/WMGT)-Rain will be possible to some degree in Middle Georgia for the next several days.
Today

Today got underway with a relatively cloudy start, but those have since cleared out for the most part. Sunshine will again be abundant during the afternoon hours as temperatures climb into the upper 80s and lower 90s around Middle Georgia. A spotty shower or two is also possible this afternoon, however the majority of the region will remain dry. Winds this afternoon will blow out of the southeast, mainly staying below 5 mph. As mentioned before, cloud cover during the afternoon will be scattered, however there will be plenty more that fills in during the overnight hours. Most of those clouds will actually fill in heading into Wednesday morning. Low temperatures heading into tomorrow morning will be in the mid to upper 60s around Middle Georgia.
Tomorrow

Wednesday officially begins the pattern change as the dry pattern leaves and a wet one begins. High pressure that has kept the Southeastern US dry is breaking down, and two separate systems will have chances to bring us rain. The one that's arriving first will be from the north-northwest: a cold front. More importantly, this cold front will to stall out just to the north of Georgia and become a stationary front. This is thanks to Tropical Storm Nicholas off to the west in Texas and Louisiana. Clouds will dominate Wednesday from sunrise, keeping high temperatures in the afternoon cooler and topping off in the upper 70s and lower 80s.
Thursday
A couple of isolated showers will be possible during the early afternoon hours, but these will quickly shift in to more numerous scattered showers during the later afternoon. These scattered storms will eventually give way to heavier, more organized rainfall in the evening. Several parts of Middle Georgia will receive between 1/4 and 1/2 an inch of rainfall between Wednesday morning and Thursday morning. But with the cold front stalling out and becoming stationary on Thursday, even more rain is expected leading into the weekend. Another 1/4 to 1/2 an inch of rain is likely on Thursday, so some places will receive close to an inch of rainfall between tomorrow morning and Friday morning.
Friday and the Weekend
Unlike the past two weekends, the rain train is not going to end heading into Friday. While the stationary front will remain to the north of Georgia, the remnants of Nicholas will continue to push east. This will bring widespread rainfall Friday afternoon and some more scattered opportunities over the weekend. The rain expected on Friday will be fueled by what's left of Nicholas. Unlike Ida a couple of weeks ago, the remnants of Nicholas will be a lot weaker and not quite make it to Georgia. Lots of heavy rain is possible on Friday with some scattered showers and storms lasting into Saturday and Sunday. The stalled out front along with the added moisture from Nicholas will fuel rainfall chances into the start of next week.
Follow Meteorologist Aaron Lowery on Facebook (Aaron Lowery 41NBC) and Twitter (@ALowWX) for weather updates throughout the day. Also, you can watch his forecasts Monday through Friday on 41NBC News at Daybreak (6-7 a.m.) and 41Today (11 a.m).