Heat dome causes temperatures to climb close to 90 degrees this week
MACON, Georgia. (41NBC/WMGT) – The first week of May will be beautiful, though hot as a high pressure system sets up across the east coast.
The high pressure system will slowly shift over the Atlantic Ocean. A south/southeast wind will push warmer air over Middle Georgia.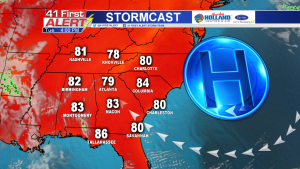 The high will stay close to the east coast for majority of the work week. Air will be sinking and compressing, resulting in an increase in temperatures.
High temperatures this week will trend close to 90 degrees on Friday, which is about 10 degrees above average according to the National Weather Service in Peachtree City.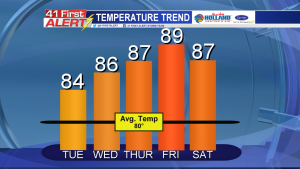 A cold front will attempt to cool things down for us this weekend. Cloud cover will increase as the front approaches. Isolated showers are possible Sunday. Temperatures will likely drop to the low 80's, too.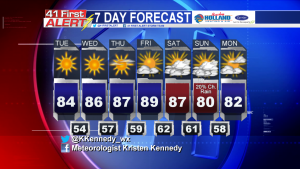 Connect with Meteorologist Kristen Kennedy on Facebook and Twitter for weather updates throughout the day. You can also watch her forecasts Monday through Friday on 41NBC News at Daybreak (5-7 a.m.) and 41Today (11 a.m.).