Sunshine returns to Middle Georgia ahead of the weekend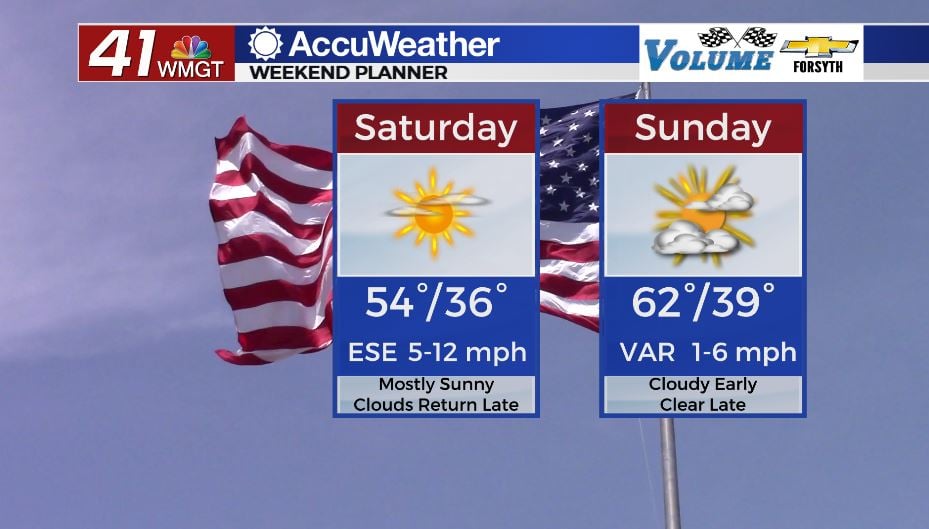 MACON, Georgia (41NBC/WMGT) – Middle Georgians will finally see some sun on Friday following a cloudy week.
Today

Widespread rain moved through Middle Georgia to kick off the final day of the week. For most of the region all the rain was gone ahead of lunchtime. Sunshine is quickly filling in behind the rain from north to south through the region. Temperatures today will largely peak in the mid 50s, however north-northwesterly winds at 7-15 mph with gusts up to 25 mph will bring wind chills in the lower 50s.
Tonight skies will be clear as temperatures drop below freezing ahead of tomorrow morning. Winds will shift from the north-northwest to the north-northeast throughout the night. Sustained speeds will range from 5-10 mph, however gusts could still push upwards of 17 mph.
The Weekend

Saturday will be a sunny day around Middle Georgia until the late afternoon. Cirrus clouds will begin to move in from the northwest as a weak storm system looks to form very quickly behind the absolute snail of a system we dealt with this past week. Highs will be in the lower 50s during the afternoon. Winds will blow from the east-southeast at 5-10 mph.

It will be a mostly cloudy night as more clouds continue to fill in from the west. Temperatures will still get rather chilly overnight, dropping into the mid to upper 30s around Middle Georgia. Winds will blow from the east-northeast at about 5 mph.
Sunday will begin on a cloudy note as that weak system moves through. Due to the fact that the new system is coming in so soon after the last one, there isn't enough return flow to re-energize the atmosphere or to re-saturate it. As a result, rain chances on Sunday will be held to a stray shower or two. Clouds will clear out throughout the day as the system moves out to the east. Winds will be variable at about 5 mph. Overnight skies will be mostly clear, allowing Middle Georgians to see the Full Snow Moon. It will be a relatively chilly night with lows in the upper 30s and lower 40s. Winds will blow from the northwest at about 5 mph.
Follow Meteorologist Aaron Lowery on Facebook (Aaron Lowery 41NBC) and Twitter (@ALowWX) for weather updates throughout the day. Also, you can watch his forecasts Monday through Friday on 41NBC News at Daybreak (5-7 a.m.) and 41Today (11 a.m).