Sunshine returns to kick off the new week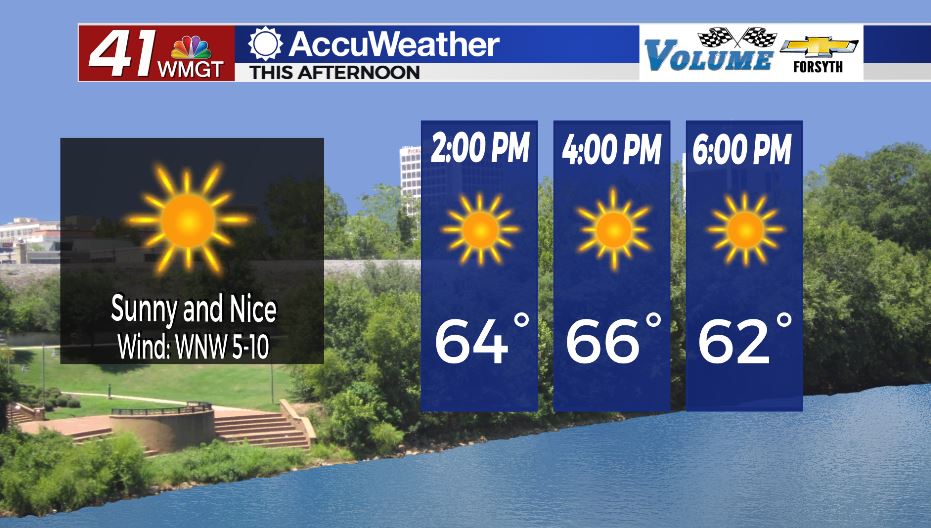 MACON, Georgia (41NBC/WMGT) – Sunny skies are back for Middle Georgia following a wet and gloomy weekend.
Today

Sunny skies have finally returned to Middle Georgia following a dreary weekend for the whole region. Temperatures will rise into the mid to upper 60s during the afternoon hours. Winds will blow from the west-northwest at about 5-12 mph with gusts pushing upwards of 20 mph. Cloud cover will be hard to come by across the entirety of Georgia today, however a couple of cirrus clouds may pass through.
Tonight winds will back off to about 5 mph as they shift more towards the north. Temperatures will bottom out in the mid to upper 30s around the region. Skies will remain clear for the most part, however some cirrus clouds are likely to move in from the west around sunrise tomorrow.
Valentine's Day

Tuesday will be pretty nice for most of the region, however a large amount of cirrus clouds will almost act as a thin blanket across much of the region. Temperatures will reach into the lower 70s with winds blowing from the southeast at 5-12 mph. Gusts could reach as high as 25 mph during the afternoon.
Tomorrow night skies will be mostly clear as many of those cirrus clouds move out. Winds will blow from the south-southeast at 5-10 mph. Should the winds end up on the calmer side of that range then patchy fog will be likely around the region. Low temperatures will be in the mid to upper 40s.
Wednesday and Beyond

Wednesday should also be rather nice around Middle Georgia as temperatures largely reach the lower 70s under a mix of sun and clouds. A couple of isolated showers will be possible in some of the northwestern counties, but aside from that Middle Georgia should stay dry.
More clouds will arrive in Middle Georgia on Thursday as a warm front moves through the region during the afternoon and evening. Overnight rain chances will climb with a cold front expected to bring a line of storms to the region Friday morning. Sunny skies should return over the weekend.
Follow Meteorologist Aaron Lowery on Facebook (Aaron Lowery 41NBC) and Twitter (@ALowWX) for weather updates throughout the day. Also, you can watch his forecasts Monday through Friday on 41NBC News at Daybreak (5-7 a.m.) and 41Today (11 a.m).