Sunshine returns for Tuesday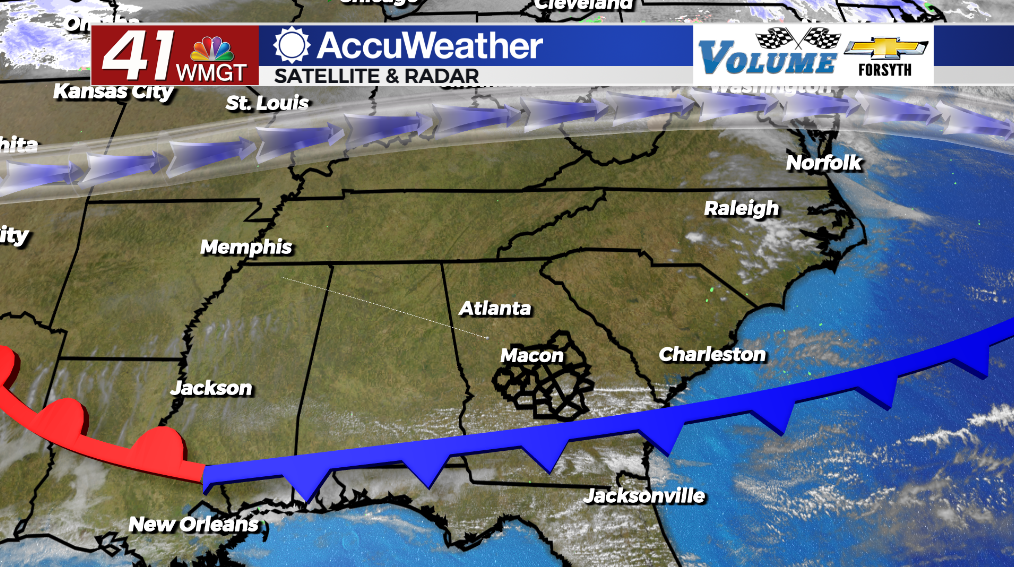 MACON, Georgia (41NBC/WMGT) – Sunny skies are back for Middle Georgia following an overnight cold front.
Today

There were a few clouds left during the morning hours today, but as we roll towards lunchtime the skies are clearing completely. Highs this afternoon will be in the lower 80s across Middle Georgia. Winds will initially blow from the west-northwest at about 5-15 mph with gusts pushing 25 mph. They will likely shift towards the west-southwest in the afternoon/evening. Some mid level clouds will begin to move in during the late afternoon and evening hours, but that should be all.
Tonight winds will slow and become variable briefly before shifting to the southwest. Temperatures and dew points tomorrow morning will be in the upper 50s and lower 60s. Cloud cover will also increase overnight, particularly at the lower levels, thanks to a warm front moving through the region. Fog will also be likely, at least in patchy form, for much of the region given the humid atmosphere and relatively calm winds.
Tomorrow

Wednesday will see partly cloudy skies with plenty of added cloud cover in the evening. A couple of isolated showers cannot be ruled out. Highs will push into the low to mid 80s with southwesterly winds blowing in at 15-25 mph. Gusts could push 25 mph throughout the afternoon.
Tomorrow night will be mostly cloudy with the southwesterly winds persisting. This should limit fog potential into Thursday morning. Low temperatures will be in the mid 60s for most of the region. An isolated shower will be possible, however the odds are very low.
Thursday and Beyond

Thursday will see partly to mostly cloudy conditions around the region with highs again reaching into the lower 80s. Winds will blow from the south-southwest at 5-15 mph and gusts pushing 25 mph. The far northern counties may see a couple of small thunderstorms, however the southern counties in Middle Georgia likely will not see any rain along with less cloud cover. Cloud cover will thicken overnight ahead of an incoming cold front on Friday. Temperatures will only drop into the mid to upper 60s ahead of said cold front Friday morning.
Friday will see the best chance for rain for the region, however the models are not seeing great overall structure with the system as it moves into the region. This could both limit severe weather potential as well as overall rain potential for Friday. The rain is expected to move out ahead of the overnight hours. Sunny and slightly cooler conditions are expected over the weekend.
Follow Meteorologist Aaron Lowery on Facebook (Aaron Lowery 41NBC) and Twitter (@ALowWX) for weather updates throughout the day. Also, you can watch his forecasts Monday through Friday on 41NBC News at Daybreak (5-7 a.m.) and 41Today (11 a.m).