Sunshine continues Monday afternoon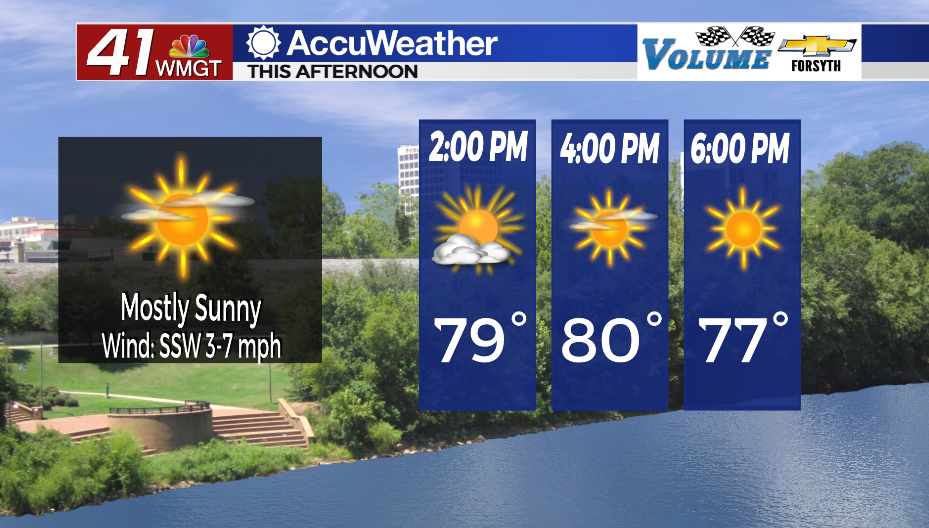 MACON, Georgia (41NBC/WMGT) – Mostly sunny conditions with above average temperatures are continuing into the new week.
Today

It was a cool and muggy morning around Middle Georgia. As a result, some spots saw patchy fog along with a blanket of low level clouds to get things rolling. Those clouds will dissipate as temperatures climb into lunchtime, revealing only a few scattered cirrus clouds above them. Winds today will be extremely calm as they hover around the 5 mph mark from the south-southwest. Gusts could reach as high as 10 mph. High temperatures across Middle Georgia should reach into the lower 80s. While conditions outside are nice, it is time to begin thinking about keeping the sunblock handy. Also, Middle Georgians who suffer from pollen allergies would be wise to begin taking preventative measures now.
Tonight

Tonight will be a mostly clear night until tomorrow morning. This will be a good opportunity for Middle Georgians to get a look at the 3rd full moon of the year; the Full Worm Moon. Just ahead of sunrise cloud cover will move in as a weak cold front moves through the region from the north. A couple of small showers will be possible around the region to begin our Tuesday. Temperatures will bottom out in the upper 50s and lower 60s. Winds will blow from the west-northwest at 5-10 mph with gusts pushing 20 mph.
A Little Further Out
Tuesday will be another warm and sunny day following early cloud cover from the overnight cold front. It will also be breezy as well for the same reason. Wednesday and Thursday will be a good bit cooler as high temperatures only reach into the 60s. Rain chances will begin to climb again Wednesday night with showers likely on Thursday.
Follow Meteorologist Aaron Lowery on Facebook (Aaron Lowery 41NBC) and Twitter (@ALowWX) for weather updates throughout the day. Also, you can watch his forecasts Monday through Friday on 41NBC News at Daybreak (5-7 a.m.) and 41Today (11 a.m).