Sunny, warm, and breezy conditions expected Tuesday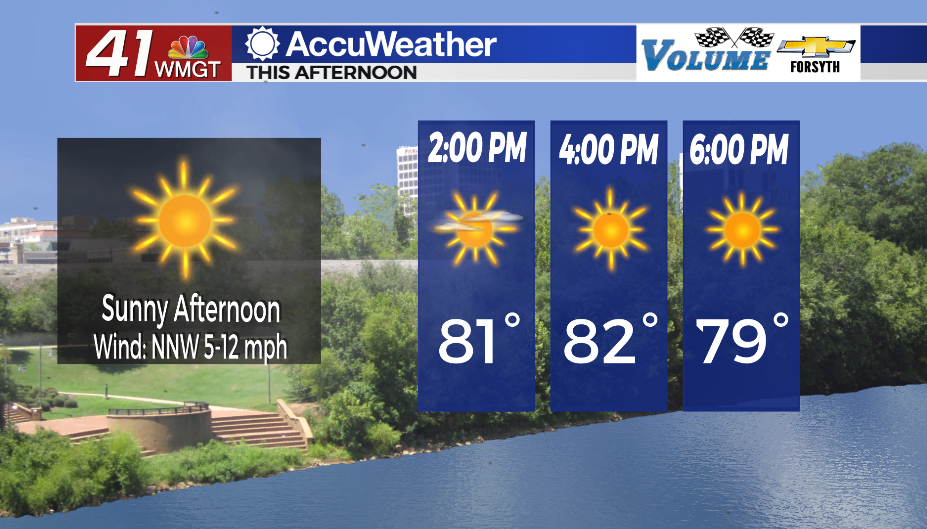 MACON, Georgia (41NBC/WMGT) – It will be sunny and warm again this afternoon, however this time it will be breezy in the wake of a cold front.
Today

Sunny skies took over Middle Georgia during the sunrise hours this morning and have not left since. They won't be leaving this afternoon either. Highs will reach into the low to mid 80s around the region. Winds will blow from the north-northwest at 5-12 mph, however gusts could reach upwards of 25 mph. Pollen levels remain high around the region, and elevated winds are not helping those who suffer from allergies.
Skies will remain clear tonight for those who have not yet seen the Full Worm Moon. It will be a colder night than last night as a result of the passing cold front Tuesday morning. Winds will still be rather breezy as well, maintaining the sustained and gust speeds from the afternoon. They will blow out of the northeast overnight, however. Temperatures will drop largely into the mid to upper 40s overnight, however a couple of southern counties may stay above the 50 degree mark.
Tomorrow

Middle Georgia will see sunny conditions again on Wednesday, however it will be about 15 degrees cooler outside. Highs will only reach into the upper 60s and lower 70s with easterly winds blowing in at about 10-15 mph. Clouds will begin to roll in from the northwest during the evening hours.
Tomorrow night will be mostly cloudy, so if you want to see the full moon make sure to do it tonight. It will be a slightly warmer night as a result with lows expected to be in the low to mid 50s around the region. Some of the eastern counties may see lows drop just below the 50 degree mark. Winds will blow out of the east-southeast at around 5 mph.
Thursday and Beyond

Thursday will be a mostly cloudy day for Middle Georgia, and as a result temperatures will be even cooler. Highs will only climb into the low to mid 60s around the region. Showers are likely in the afternoon with more widespread rain moving in overnight.
Friday will be an even wetter day for the region and brings the best chance of rain of the week (Sunday pending). The rain from both Thursday night and Friday should wash a good bit of the pollen away. Saturday should be a mostly sunny day around the region before more rain becomes possible Sunday. The European model is being aggressive with rain chances late Sunday, however the American model is only seeing some scattered showers.
Follow Meteorologist Aaron Lowery on Facebook (Aaron Lowery 41NBC) and Twitter (@ALowWX) for weather updates throughout the day. Also, you can watch his forecasts Monday through Friday on 41NBC News at Daybreak (5-7 a.m.) and 41Today (11 a.m).