Sunny skies return for the new week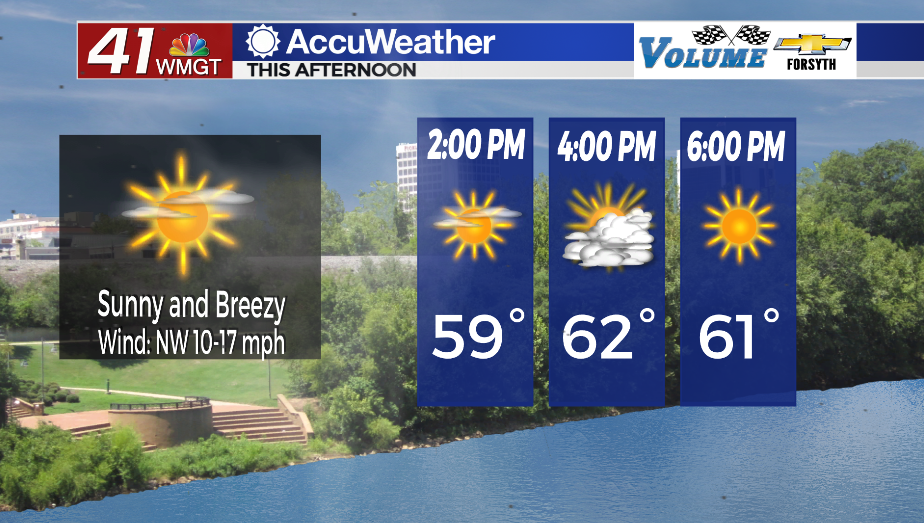 MACON, Georgia (41NBC/WMGT) – Cool and clear conditions have taken back over Middle Georgia following a cold front Sunday.
Today

It will be cool and breezy around Middle Georgia this afternoon, however skies will be mostly sunny. Highs are likely to reach the low to mid 60s under a sky with only a few cirrus clouds passing through. Winds, however, will be prominent this afternoon. Sustained speeds will likely fall in the 10-20 mph range with gusts pushing upwards of 25 mph. It would be a good idea to keep a light sweater on hand.
Tonight skies will be clear and temperatures outside will drop rapidly. Winds will back off slightly, however sustained speeds will still fall in the 10-15 mph range with gusts pushing 20 mph. Low temperatures tomorrow morning will be in the low to mid 30s with wind chills likely below freezing.
Tomorrow

It will be another sunny and breezy day Tuesday around Middle Georgia, however it will be slightly cooler. Winds will likely still fall in the 10-15 mph range with gusts upwards of 25 mph, however high temperatures will largely be in the upper 50s. A few spots will get over 60 degrees. Overhead skies will likely remain clear all day.
A few clouds may move into the southern part of the region overnight, but aside from that skies will remain clear. Winds will remain out of the north with gusts still pushing 15 mph, leading to the coldest night of the week as much of the region drops down to or below freezing.
Wednesday and Beyond

High pressure will move through Middle Georgia on Wednesday, leading to more sunshine but also winds that will calm down and shift back towards the south. Temperatures should climb back into the mid 60s around the region. 70s will likely return on Thursday with more sunshine before clouds and some rain return Friday, especially late.
Follow Meteorologist Aaron Lowery on Facebook (Aaron Lowery 41NBC) and Twitter (@ALowWX) for weather updates throughout the day. Also, you can watch his forecasts Monday through Friday on 41NBC News at Daybreak (5-7 a.m.) and 41Today (11 a.m).