Sunny and warm President's Day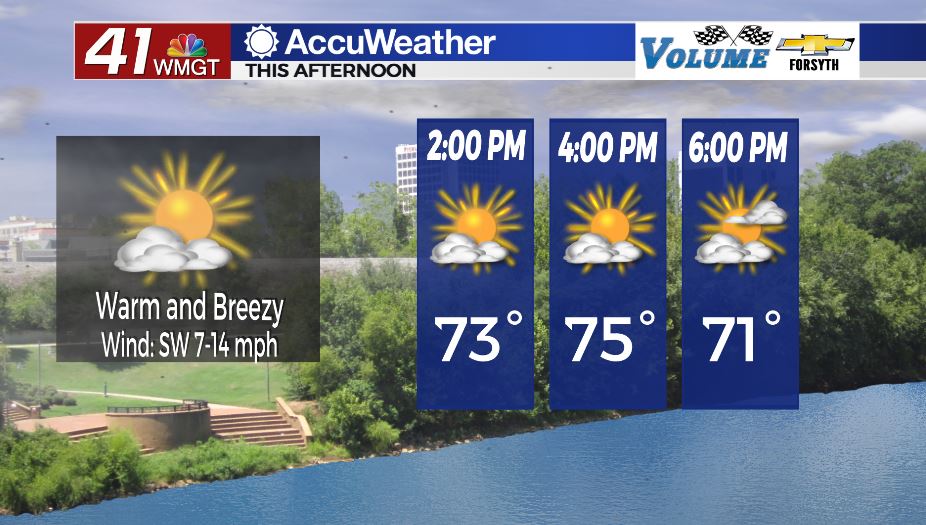 MACON, Georgia (41NBC/WMGT) – Middle Georgians will enjoy plenty of sun as temperatures warm into the 7os
Today

Middle Georgia will see a healthy dose of sun for most of the afternoon. Some cirrus clouds are expected overhead throughout the day, however mid-level clouds likely will not arrive until the late afternoon hours. High temperatures will be in the mid to upper 70s around the region. Winds will be rather breezy out of the southwest with sustained speeds falling in the 7-15 mph range. Gusts will push upwards of 25 mph.
Tonight skies will be mostly cloudy with a couple of showers possible ahead of tomorrow morning. Temperatures will drop into the lower 60s with dew points in the upper 50s for most of the region. Due to the strong southwest breezes sticking around overnight, however, fog is unlikely tomorrow morning. Middle Georgians should instead prepare their rain gear as some showers will be possible out the door.
Tomorrow

Scattered showers will move through Middle Georgia for the first half of the day, and a couple of them may linger later into the afternoon. It will be mostly cloudy tomorrow to accompany the showers, and as a result high temperatures will likely be a couple of degrees cooler. Winds will continue to blow from the southwest, slowing during the later afternoon hours.
Tomorrow night will again be mostly cloudy, however rain is not expected. Winds will still blow from the south-southwest, however they will not be nearly as strong as Monday night. With low temperatures and dew points likely to be in the lower 60s across the region, fog will be likely Wednesday morning.
The Rest of the Week

Middle Georgia will likely see temperatures warm into the 80s both Wednesday and Thursday. A summer-like pattern is taking over as a strong high pressure system and large ridging pattern set in over the southeastern US. Afternoon conditions will likely consist of partly cloudy skies with a few shower chances here and there. Winds will remain out of the southwest until Friday, at which time temperatures should drop back into the 70s.
Follow Meteorologist Aaron Lowery on Facebook (Aaron Lowery 41NBC) and Twitter (@ALowWX) for weather updates throughout the day. Also, you can watch his forecasts Monday through Friday on 41NBC News at Daybreak (5-7 a.m.) and 41Today (11 a.m).