Sunnier conditions return Wednesday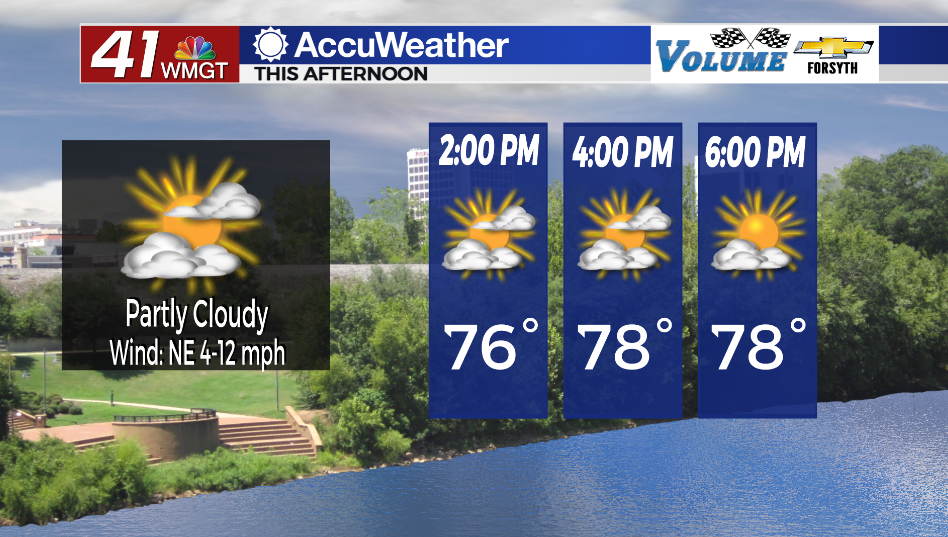 MACON, Georgia (41NBC/WMGT) – Cloud cover will break a bit around Middle Georgia this afternoon.
Today

Following a cloudy morning (and for a handful of Middle Georgians a wet one) things should get a bit nicer rolling into the afternoon. While cloud cover will not completely clear, as the day progresses the lower level clouds will clear out, leaving the translucent upper-level cirrus clouds behind. Highs around the region should reach the upper 70s and lower 80s with ambient wind out of the northeast at 5-15 mph. Gusts could reach as high as 20 mph. Rain activity is unlikely following the lunchtime hours today.
Tonight partly cloudy skies will stick with Middle Georgia with many of them being cirrus clouds. Lows will be a bit cooler than what we have seen in recent weeks as they drop into the mid 50s. Winds will blow out of the north-northeast at about 5-10 mph, however gusts could reach as high as 15 mph, adding a bit of an extra chill out the door tomorrow morning.
Tomorrow

It should be a mostly sunny day around Middle Georgia tomorrow with highs reaching into the low to mid 80s. It will also be a bit breezy out of the northeast with wind gusts reaching as high as 25 mph (sustained 10-15 mph). Some upper level clouds will likely be present, especially in the eastern counties.
Overnight skies will be mostly clear leading up to Friday morning. Temperatures will bottom out in the upper 50s and lower 60s as the northeasterly winds persist.
Friday and The Weekend
The forecast begins to get a bit tricky heading into the weekend thanks to model guidance suggesting a low pressure system off the coast of the Carolinas/Georgia will form and impact the area as it moves inland. When it moves inland and where to will determine what kind of rain Middle Georgia will see. As of now, the American model brings it inland beginning Friday night and parks it in Eastern GA until Sunday morning, resulting in a very wet Saturday for the region. The European Model, however, does not bring it into the Peach State until Saturday evening with it leaving Sunday afternoon, resulting in plenty of cloud cover but less rain for the region. This would also lead to an overall pleasant Friday while the American brings that cloud cover back by lunchtime Friday.
Follow Meteorologist Aaron Lowery on Facebook (Aaron Lowery 41NBC) and Twitter (@ALowWX) for weather updates throughout the day. Also, you can watch his forecasts Monday through Friday on 41NBC News at Daybreak (5-7 a.m.) and 41Today (11 a.m).