Strong to severe storms are expected this evening and tomorrow in Middle Georgia.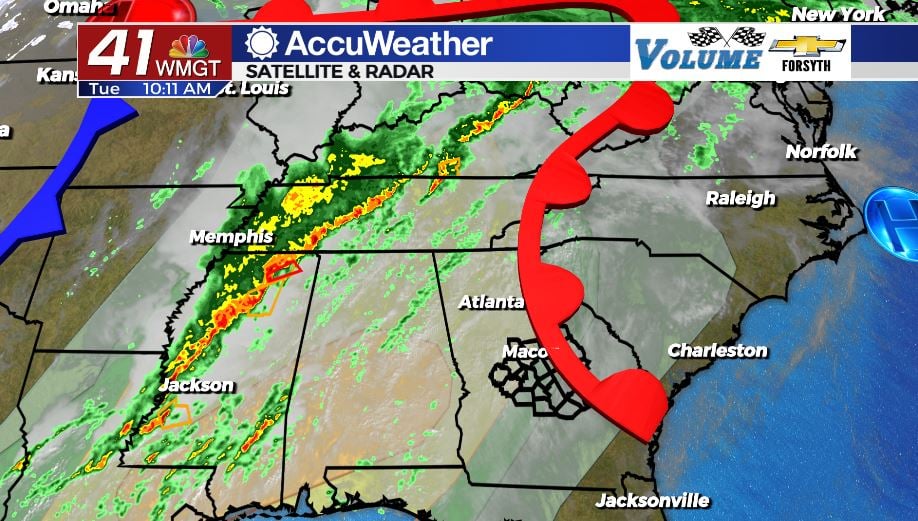 MACON, Georgia (41NBC/WMGT) – An approaching cold front will bring thunderstorms to Middle Georgia tonight and tomorrow; some could be severe.
Today

Cloudy skies will stick around Middle Georgia all day today. It will still be warm though as highs reach the 70s around the region. Winds will blow from the south at 5-15 mph with gusts largely hanging in the 20-25 mph range. Some showers and storms will be possible this afternoon, however they will largely be isolated. Our northwestern counties will have the highest chance to see persistent heavy rain today and tonight. All this rain could pose a flash flood risk.
Late this afternoon/early this evening Middle Georgia could see some severe weather, particularly in the northwestern counties. A Level 2 "Slight" Risk has been issued for Monroe, Bibb, Crawford, Taylor, Macon, Peach, and Western Jones Counties ahead of these storms.
Storm chances will rise overnight, primarily for the northern counties. These storms likely will not be severe however they will bring plenty of rain, fueling a flash flood threat. We will see the main line of storms begin to approach Middle Georgia shortly ahead of the sunrise tomorrow. Low temperatures will be in the mid to upper 60s with ambient winds blowing from the south-southwest at 5-15 mph and gusts pushing 30 mph.
Tomorrow

It will be a wet first half of the day tomorrow as a line of thunderstorms moves through Middle Georgia. There is currently a Level 2 "Slight" Risk for severe weather across the region tomorrow. The primary threats will be strong wind gusts and flooding, however a couple of isolated tornadoes are unfortunately also on the table. Because these are rolling in after the sunrise temperatures will likely be in the low 70s for most of the region when they pass through, providing plenty of fuel. The tornado threat will be greatest with any isolated storms that fire up ahead of the main line. The line should move out of the region by 3-4 pm.
Following the storms skies will clear a bit, but we should still have a decent bit of cloud cover heading into the overnight hours. Rain totals for most of the region should fall between 1-2 inches, however locally heavier (or lower) amounts are possible. Monroe County (and locations to the north and west outside of Middle Georgia) could see rain totals in excess of 5 inches. Temperatures will drop into the upper 40s and lower 50s heading into Thursday morning.
Thursday and Beyond
Middle Georgia will see sunny and mild days along with cool and dry nights to end the week. We will see humidity return over the weekend with rain chances returning early next week.
Follow Meteorologist Aaron Lowery on Facebook (Aaron Lowery 41NBC) and Twitter (@ALowWX) for weather updates throughout the day. Also, you can watch his forecasts Monday through Friday on 41NBC News at Daybreak (6-7 a.m.) and 41Today (11 a.m).