Storms likely Friday afternoon; some could be strong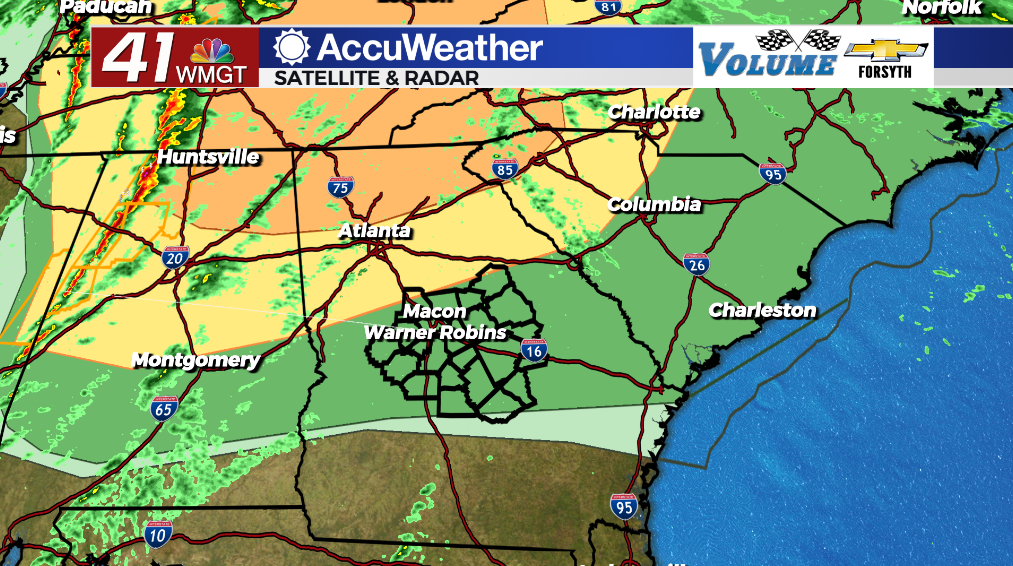 MACON, Georgia (41NBC/WMGT) – An incoming cold front will bring showers and storms to Middle Georgia today with a small potential for some to be severe.
Today

Middle Georgia will again see mostly cloudy conditions for our Friday. Showers will be likely around the region as we roll into the lunchtime hours. These are expected to be small and light. During the lunchtime hours some breaking in the clouds is expected, allowing temperatures to rise into the low 80s for most of the region. Thunderstorms are likely to begin to move in during the late afternoon and evening hours.
The Level 2 "Slight" risk now only includes the far northwestern counties of the region: if the trend of it retreating to the north continues, the next update may have Middle Georgia only in the Level 1 "Marginal" risk zone. It is expected that there will not be enough difference in temperatures between the lower levels in the mid levels to really get storms going this afternoon due to the system weakening and moving further to the northeast. Dryer conditions aloft will also limit overall storm potential. However, it can be more conducive for downdrafts, or powerful winds that rush from the upper levels of the storm down to the surface.
Whether or not Middle Georgia sees a lot of thunderstorms this evening or not, the region will see plenty of powerful winds. Sustained speeds from the south-southwest will fall somewhere in the 20-35 mph range with gusts pushing 50 mph. Wind is the number one threat for severe weather today, and for many around the region it may not be brought on by storms. Storm activity should begin to move in during the late afternoon hours with the cold front arriving around 6 pm in the northwestern counties. It should be out of the region by midnight tonight.
Once the front moves through the winds will shift to the west-northwest. Sustained speeds will fall in the 5-15 mph range with gusts pushing 20-25 mph. Skies will clear out and temperatures will bottom out in the lower 50s.
This Weekend

Both Saturday and Sunday will see sunny skies with highs in the 70s. Sunday will likely be a couple of degrees warmer than Saturday. Saturday will be breezier due to the recent passing of the cold front Friday.
Follow Meteorologist Aaron Lowery on Facebook (Aaron Lowery 41NBC) and Twitter (@ALowWX) for weather updates throughout the day. Also, you can watch his forecasts Monday through Friday on 41NBC News at Daybreak (5-7 a.m.) and 41Today (11 a.m).