Staying warm to begin the new week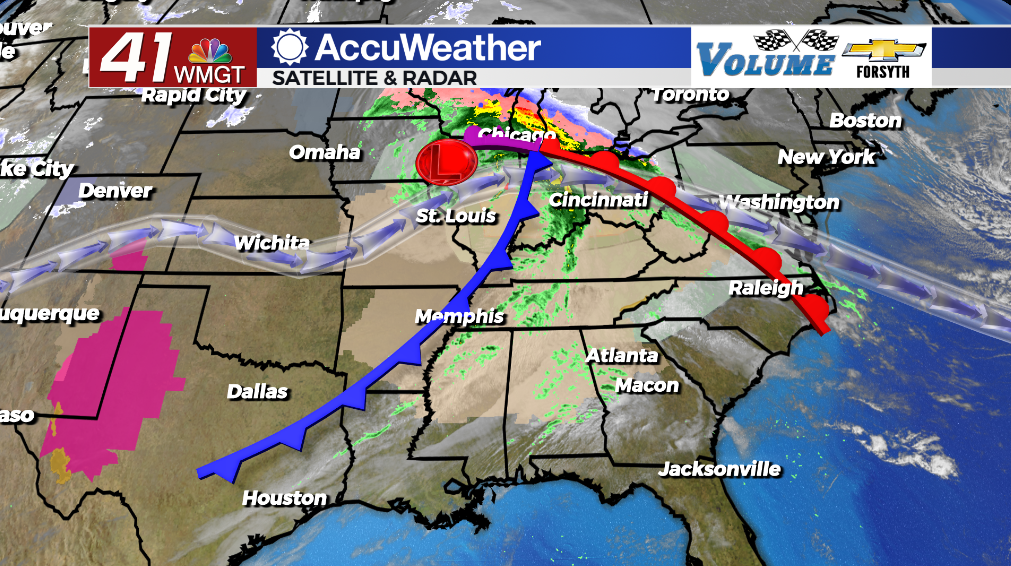 MACON, Georgia (41NBC/WMGT) – Temperatures will again climb into the 80s for much of Middle Georgia as February nears its end.
Today

A cloudy morning gave way to a mix of sun and clouds rolling into the late morning hours. Temperatures will rise into the upper 70s and lower 80s this afternoon across Middle Georgia. There will also be plenty of wind from the southwest. Sustained speeds will range from 10-20 mph with gusts potentially pushing over 30 mph. A few isolated showers will also be possible throughout the afternoon.
Tonight

Partly cloudy conditions will carry into tonight before mostly cloudy skies take over at midnight. A weak cold front will bring a small line of showers to Middle Georgia during the pre-sunrise hours Tuesday morning. Clear conditions will move in behind them. Winds will briefly shift to the west-northwest at about 10-15 mph once the front passes. Low temperatures will largely be in the low to mid 60s around the region.
7 Day Forecast

We will remain warm around Middle Georgia to finish off February and head into March. A few shower chances will be likely again on Wednesday and Thursday with the best chance for a few thunderstorms arriving Friday. Following that cold front Middle Georgia should see highs return to the 60s into the weekend, which is way more typical for March than lower 80s.
Follow Meteorologist Aaron Lowery on Facebook (Aaron Lowery 41NBC) and Twitter (@ALowWX) for weather updates throughout the day. Also, you can watch his forecasts Monday through Friday on 41NBC News at Daybreak (5-7 a.m.) and 41Today (11 a.m).