Six additional overdoses in Middle Georgia, possibly linked to fake Percocet
MACON, Georgia (41NBC/WMGT) – As of Wednesday morning, the Georgia Department of Public Health says there have been six additional overdoses in Middle Georgia.
The opioid overdose investigation continues, none of the cases have been confirmed since toxicology reports are not in. The DPH has not released where these additional cases are. On Tuesday they said about a dozen cases were spread out through Centerville, Perry, Macon, Warner Robins and Albany.
Bibb County coroner, Leon Jones confirmed two overdose deaths in Bibb county that could be related to the fake Percocet, 51-year-old Gregory Mitchell and 36-year-old Amirrah Gillens. The Monroe County Sheriff's Office also confirmed the death of 21-year-old Jackson Moore III. Moore was found dead Sunday morning. Investigators also think there's a link to the fake Percocet, but nothing is confirmed.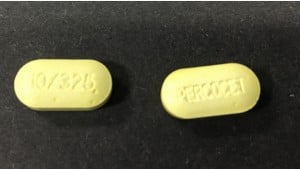 The Bibb County Sheriff's Office investigators got a hold of a batch of the fake Percocet. They shared the picture above. picture of what the fake Percocet looks like. The pills are described as yellow and oval shaped. The counterfeit pills have the numbers 10/325 on one side and the letters PERCOCET on the other, the word is marked slanted. The counterfeit pills also have the words and numbers stamped deeper than the real ones.
Investigators won't say how they got a hold of the pills, but they are being tested to see what's in them. Lt. Michael Kenirey says it will probably take a few days to get results back.
Lt. Kenirey also says first responders are carrying Narcan and suggests if you know anyone who is abusing opioids to buy a box of Narcan. You can get it at a local drug store.
The sheriff's office main priority is to make sure the number of deaths or injuries don't go up.
Officials still don't know what these pills contain, but they know they are dangerous. If you have any information, contact the Bibb County Sheriff's Office 751-7500 or Macon Regional Crimestoppers at 1-877-68CRIME.