Showers likely Thursday with widespread rain arriving later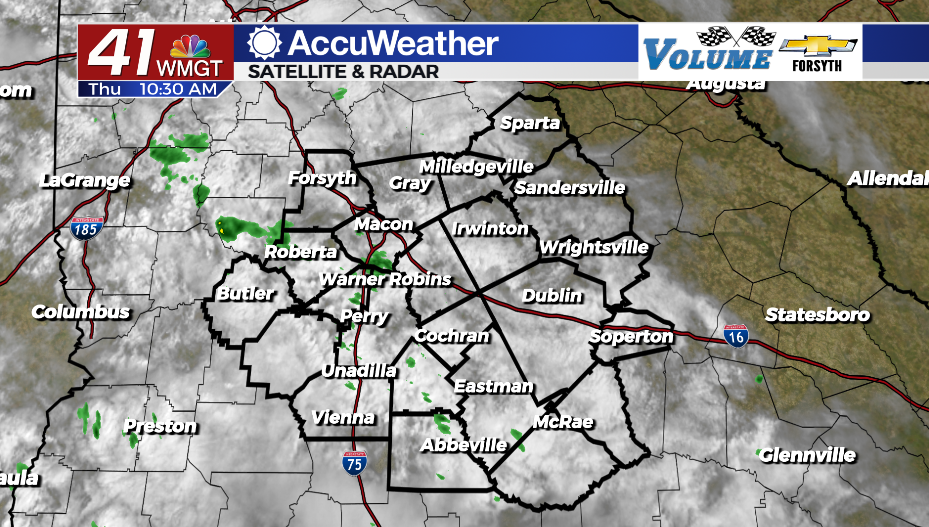 MACON, Georgia (41NBC/WMGT) – Small showers will be possible throughout the day in Middle Georgia with heavier widespread rain moving in during the evening/overnight.
Today

Cloudy skies will stick with Middle Georgia throughout the day with the exception of a few small pockets of sunshine. Highs will largely be in the mid to upper 60s with one or two spots potentially reaching the 70 degree mark. Winds will blow from the southeast at 2-10 mph with gusts upwards of 15 mph. Any rain during the day should be light and in the form of small showers. The northern half of the region has a higher chance for rain today, however a couple of showers could meander further south.
This evening is when heavier rain could begin to move in. Some models are indicating a bout of widespread moderate rain impacting much of the northern half of the region during the suppertime hours. Other models have that same bout largely missing us to the north but still grazing the region slightly. In this scenario heavier rain likely won't move in until around midnight.

More light to moderate rain is expected tonight in the form of scattered showers, and it will only become more widespread as we approach sunrise tomorrow. Temperatures will bottom out in the low to mid 60s.
Tomorrow

Skies will remain cloudy for our Friday with the slight chance for some clearing in the northwestern counties ahead of the overnight hours. Widespread moderate to heavy rain is likely out the door as a cold front moves through the region. This rain should move out of Middle Georgia by the late afternoon hours on the south end. High temperatures will be in the upper 60s and lower 70s around the region. Winds will be calm early, however once the cold front moves out they will shift to the northwest with sustained speeds falling in the 10-15 mph range. Gusts will push 20-25 mph.
Skies tomorrow night will be clear as temperatures drop into the lower 40s and upper 30s. Winds will persist out of the northwest at 5-15 mph.
The Weekend and Beyond
Saturday will be a sunny day across Middle Georgia until cloud cover begins to return in the late afternoon. Sunday will be partly to mostly cloudy with storms likely in the evening and overnight. Conditions following an overnight cold front Sunday into Monday morning will be below average for this time of year heading towards the middle of next week.
Follow Meteorologist Aaron Lowery on Facebook (Aaron Lowery 41NBC) and Twitter (@ALowWX) for weather updates throughout the day. Also, you can watch his forecasts Monday through Friday on 41NBC News at Daybreak (5-7 a.m.) and 41Today (11 a.m).