Scattered showers likely Tuesday afternoon and evening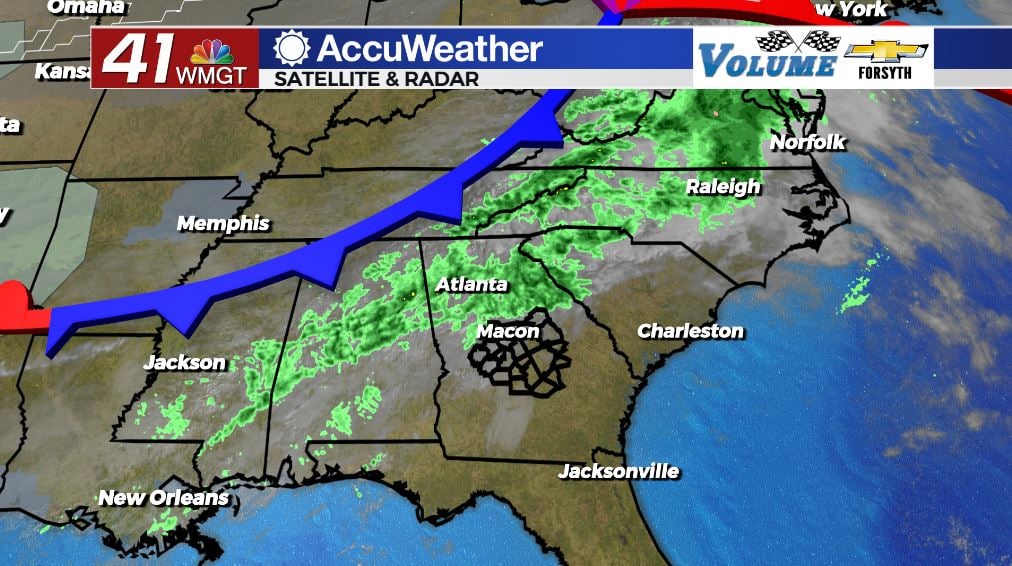 MACON, Georgia (41NBC/WMGT) – A stalled cold front to the north will bring a few showers to Middle Georgia Tuesday.
Today

It will be a relatively cloudy afternoon across Middle Georgia, however a few pockets of sunshine will be possible in some of the southern counties. As a result, highs across the region will be in the upper 60s for the northern counties and the lower 70s for the southern counties. It will be quite windy as well: sustained speeds from the southwest will range anywhere from 5 mph up to 20 mph. Gusts could push more than 30 mph at times. Rain chances are also higher for the northern half of the region. For the most part it will just be light to moderate rainfall, however a rumble of thunder cannot be ruled out. For the southern counties a few isolated showers will be possible, but many will likely stay dry.
Tonight most of the shower activity will subside, however a few may linger early, especially towards the middle or southern parts of Middle Georgia. It will remain cloudy and muggy through the night as temperatures reach their low points in the mid to upper 50s. Some spots may remain above 60 degrees. Winds will remain out of the southwest, however the speed should slow to about 5-10 mph. Gusts could still push upwards of 15 mph, however.
Tomorrow

Cloudy skies will continue to stick around Middle Georgia for Wednesday. Highs will reach into the low to mid 70s across the region. A few pockets of sunshine could allow some spots to reach towards the upper 70s. Winds will blow from the south-southwest at about 5-15 mph. A few isolated showers will be possible in the afternoon and evening, however most of the region will stay dry.
Tomorrow night will see overcast conditions as low temperatures reach their peaks for the week: the low to mid 60s. Winds will blow from the south at 5-15 mph with gusts reaching up to 20 mph. A stray shower will be possible, however most of the region will not see any overnight rainfall.
Thursday and Beyond

A bit of sun will return Thursday afternoon before some weak storms arrive in the evening. An incoming cold front will be losing steam as it pushes into Middle Georgia, bringing some thunderstorm activity to the northwestern counties of Middle Georgia and a few showers (if that) to the southeastern counties. Based on this current trend severe weather is highly unlikely on Thursday.
We will see conditions clear a bit on Friday, however partly cloudy skies will likely still linger. Widespread cloud cover and potentially widespread rain will make a return on Saturday.
Follow Meteorologist Aaron Lowery on Facebook (Aaron Lowery 41NBC) and Twitter (@ALowWX) for weather updates throughout the day. Also, you can watch his forecasts Monday through Friday on 41NBC News at Daybreak (6-7 a.m.) and 41Today (11 a.m).