Scattered showers likely Thursday afternoon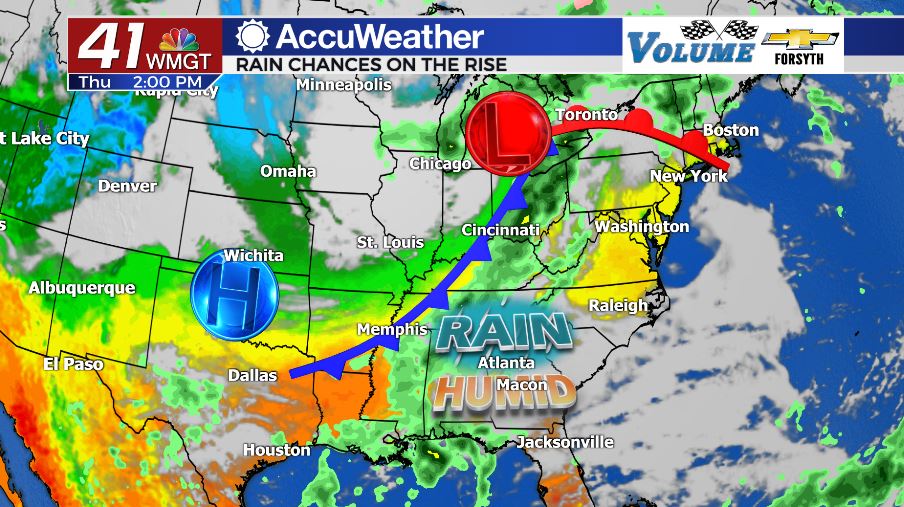 MACON, Georgia. (41NBC/WMGT) – A weak warm and cold front will bring rain showers to Middle GA throughout Thursday and into Friday.
Today

For the first time this week a blanket of clouds opened the morning to kick things off on Thursday. A few scattered showers were making their way through the metro area of Middle GA. Heading into the later morning hours, however, a large portion of the cloud cover has cleared. Sunshine will warm things up into the upper 70s and lower 80s just like yesterday. Scattered rain showers and storms will be a possibility later this afternoon, however things should remain relatively clear through the lunchtime hours. The evening showers will likely persist into the overnight hours ahead of a bit of clearing. The skies will not remain clear all night, however; a cold front arriving in the morning will bring some more storm activity to kick off Friday. Low temperatures overnight will fall into the lower to mid 60s around the region, largely in part due to overnight clouds and persistent southwest wind.
Tomorrow

Friday will begin with a line of storms making its way through Middle Georgia. The cold front will shift the wind from the southwest to the northwest ahead of the lunchtime hours, allowing for clearing skies during the afternoon. This will also lead to a reduction in humidity as the day progresses. High temperatures on Friday are likely to be about the same if not a degree or two warmer than Thursday despite the cold front passing through. A sky that will see plenty of sunshine in the afternoon will allow things to warm up, as well as the rain moving through very early. Overnight skies will remain clear with wind continuing to blow from the northwest. Low temperatures will fall into the lower 50s around Middle GA heading into Saturday morning.
This Weekend

With the passing of another cold front the weekend is once again lined up to have pleasant weather. Unlike last weekend, however, it isn't going to get as cool. High temperatures will bottom out in the mid to upper 70s on Saturday and will be right back in the upper 70s and low 80s by Sunday. Clear skies will also only be around for Saturday as some high level cirrus clouds begin to move in early on Sunday. Unlike early this week as well, the forecast does not look to remain clear into the new week. As of now it is looking like Monday could bring the most rain Middle GA has seen since the start of October when flash flood warnings dominated the area. Models are hinting at over an inch of rainfall for many locations in Middle Georgia on Monday into Tuesday. Clearer conditions are expected to follow into the middle of the week.
Follow Meteorologist Aaron Lowery on Facebook (Aaron Lowery 41NBC) and Twitter (@ALowWX) for weather updates throughout the day. Also, you can watch his forecasts Monday through Friday on 41NBC News at Daybreak (6-7 a.m.) and 41Today (11 a.m).