Rain chances escalate over the weekend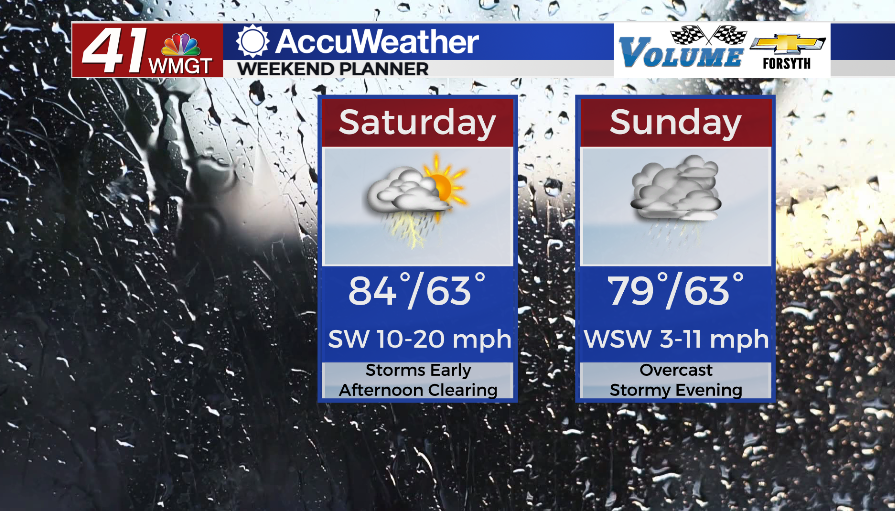 MACON, Georgia (41NBC/WMGT) – An incoming cold front will bring some storm chances Saturday before stalling out, allowing for more rain late Sunday.
Today

It's hot and sunny again around Middle Georgia. Highs are in the mid 80s this afternoon with ambient winds from the southwest blowing at 7-15 mph. Gusts could reach as high as 25 mph. The UV indices around Middle Georgia are again peaking around the 9 mark this afternoon.
Tonight cloud cover will increase, particularly after midnight, as a cold front approaches from the northwest. Winds will blow from the southwest at 7-17 mph (gusting up to 30 mph) ahead of the front. Rain is unlikely to arrive before sunrise tomorrow. Temperatures will bottom out in the mid 60s for most of the region.
Tomorrow

It will be a cloudy start to Saturday around Middle Georgia with some scattered thunderstorms arriving during the morning hours. Model guidance seems to suggest that the overall linear structure of the cold front will be falling apart as it arrives in Middle Georgia. This should limit the overall potential for organized storm activity, however in the afternoon a few more isolated storms will be possible, and a couple could be strong to severe. The SPC has issued a Level 1 "Marginal" threat for severe storms Saturday.
Skies will clear over the back half of the day, allowing for temperatures to rise into the mid 80s once again. Winds will be rather strong through the back half of the day as well with gusts still pushing up to 30 mph. Cloud cover is expected to return ahead of the sunrise Sunday for much of the region. Winds will blow from the southwest at 5-15 mph as temperatures bottom out in the low to mid 60s.
Sunday

While there may be a little bit of sun early on Sunday, it will largely be a cloudy day. Temperatures will peak in the upper 70s and lower 80s with rain likely in the afternoon. The leftovers from the stalled out cold front will work as a lifting mechanism for continued moisture feed out of the Gulf of Mexico, resulting in storms in the evening and overnight. As of now the SPC has issued a Level 1 "Marginal" threat for severe weather Sunday afternoon as well. The overall threat level still looks pretty murky, however, and this could end up being just a widespread rainy mess.
Follow Meteorologist Aaron Lowery on Facebook (Aaron Lowery 41NBC) and Twitter (@ALowWX) for weather updates throughout the day. Also, you can watch his forecasts Monday through Friday on 41NBC News at Daybreak (5-7 a.m.) and 41Today (11 a.m).