Overall pleasant Memorial Day weekend on deck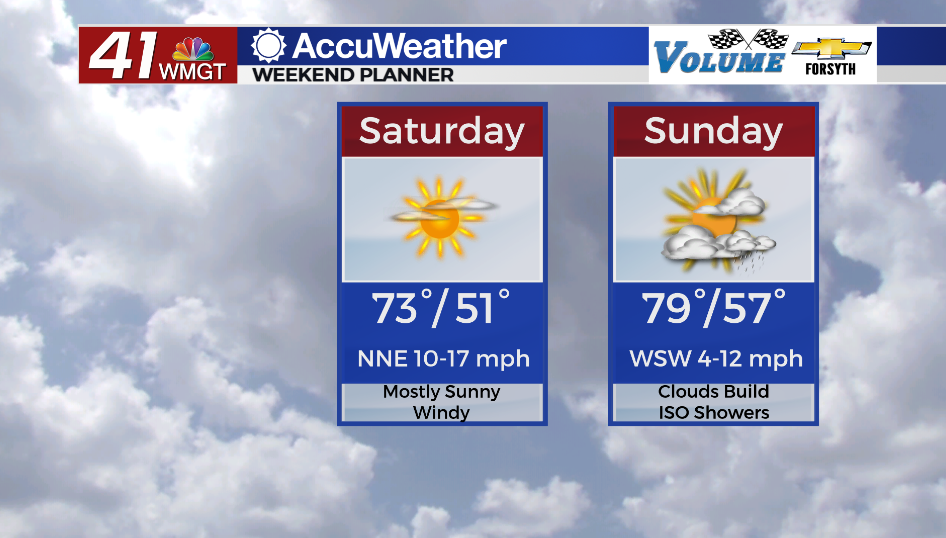 MACON, Georgia (41NBC/WMGT) – Middle Georgia will dodge most impacts of the offshore low pressure system this weekend.
Today

Despite a cloudy start to the day Middle Georgia should see a decent amount of sunshine this afternoon. The most prominent feature today, however, will be some strong winds out of the northeast. Gusts could push as high as 30 mph with sustained speeds upwards of 20 mph. These winds will lead to highs this afternoon in the upper 70s, about 3-5 degrees cooler than yesterday afternoon. Cloud cover will gradually decrease throughout the day, and by the time the sun sets this evening skies will be mostly clear.
Things will remain mostly clear overnight as temperatures drop into the mid 50s for most of the region. Winds will remain out of the northeast at about 6-12 mph (gusting up to 20 mph). Wind chills could be in the low 50s for many spots to kick off Saturday morning.
The Weekend and Beyond

Saturday will see mostly sunny skies for the western half of Middle Georgia and partly cloudy skies for the eastern half (mainly upper level clouds). This will result in the western half of the region seeing afternoon highs in the low to mid 70s with the eastern half in the upper 60s. Rain is unlikely Saturday for Middle Georgia, however a couple of small showers in the northeastern counties cannot be ruled out. Most of the rain this weekend, however, will stay in the Carolinas/along the GA/SC border. With the wind persisting out of the north-northeast tomorrow afternoon and overnight winds out of the north, overnight lows will drop into the lower 50s, the coldest so far this month.
Sunday will start off on a mostly sunny note before cloud cover fills in from the west during the back half of the day. This is thanks to the low pressure fizzing out on the eastern side of the Appalachian Mountains and reforming on the western side. Afternoon highs will be in the upper 70s for most of Middle Georgia with a few small showers during the evening and overnight hours. Skies will work to clear out a bit again overnight heading into Monday morning with lows in the upper 50s.
Next week will see temperatures return to the mid 80s (potentially eventually the 90s) under partly cloudy skies with pop up storms each afternoon.
Follow Meteorologist Aaron Lowery on Facebook (Aaron Lowery 41NBC) and Twitter (@ALowWX) for weather updates throughout the day. Also, you can watch his forecasts Monday through Friday on 41NBC News at Daybreak (5-7 a.m.) and 41Today (11 a.m).