Mostly cloudy Wednesday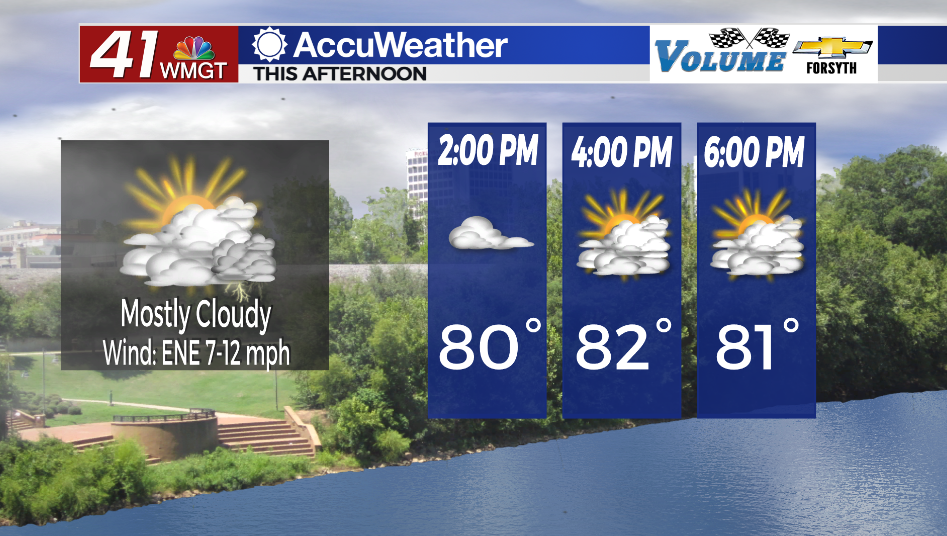 MACON, Georgia (41NBC/WMGT) – Wednesday will have a gloomy feel throughout the day thanks to added cloud cover.
Middle Georgia began Wednesday on a much warmer note than Tuesday thanks to increased cloud cover overnight. That cloud cover will help things to feel a little cooler this afternoon with highs and heat indexes largely in the mid 80s. A few pockets of sunshine are expected throughout the day, however don't expect any clearing. Ambient winds will blow out of the east-northeast at around 5-12 mph, however gusts could reach as high as 20 mph. The UV index for today in Macon is about 8.2, so sunscreen is still necessary despite the added cloud cover for anyone spending ample time outdoors.
During the afternoon and evening some isolated showers and a couple of small thunderstorms are also likely. The best odds for thunderstorm activity will be in the western counties (along and west of I-75), however showers and/or a thunderstorm can happen anywhere. Most of the region will stay dry despite the increased rain chances.
Tonight cloud cover will stick around before likely thickening more ahead of the sunrise on Thursday. Winds overnight will remain from the east-northeast, however the speed should be about 5-10 mph. Showers are unlikely overnight, however one or two early on cannot be ruled out. Temperatures will bottom out in the mid to upper 60s.
Follow Meteorologist Aaron Lowery on Facebook (Aaron Lowery 41NBC) and Twitter (@ALowWX) for weather updates throughout the day. Also, you can watch his forecasts Monday through Friday on 41NBC News at Daybreak (5-7 a.m.) and 41Today (11 a.m).