More clouds arrive Wednesday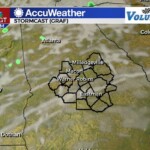 MACON, Georgia (41NBC/WMGT) – More clouds will move into Middle Georgia this afternoon ahead of a cold front arriving Thursday.
Today

Overall Wednesday should be a nice day across Middle Georgia. Cloud cover will generally increase throughout the day, but there should still be a healthy dose of sun. Highs will largely reach into the mid 70s across the region. Winds will blow from the south-southeast at about 3-9 mph. Winds will gradually get stronger during the evening as cloud cover continues to increase.
Tonight we will see winds of 5-10 mph from the southeast. Gusts could push 15-20 mph in many spots around the region. Despite the increased humidity ahead of the cold front arriving Thursday afternoon, the stronger wind gusts overnight will make fog hard to come by in Middle Georgia tomorrow morning. Low temperatures will be in the mid to upper 50s.
Tomorrow

A cold front will arrive in Middle Georgia to begin our Thursday, however it will be falling apart as it does so. As a result, not only is severe weather not expected for tomorrow, but thunderstorms as a whole will be hard to come by. Scattered showers will be likely throughout the day, starting more in the northwestern counties and then pushing further south during the day. High temperatures will range from the upper 60s into the mid 70s during the afternoon. Winds will blow from south at about 5-15 mph with gusts potentially reaching upwards of 30 mph.
Overnight we could see some heavy rain move into Middle Georgia, especially into Friday morning. Not all models are on board with this, however. One of the more high resolution models, the GRAF, does not see any heavy rain moving into Middle Georgia until Friday afternoon. The Euro has that rain arriving shortly after sunrise while the GFS has it moving in Thursday evening ahead of midnight. The arrival of the rain earlier could affect overnight lows, which right now are forecast to be in the upper 50s.
Friday and The Weekend

As mentioned above, Friday is expected to be a pretty wet day. While the GRAF may not bring that rain into Middle Georgia until the late afternoon hours, the Euro and GFS have it arriving around sunrise or before midnight Thursday night respectively. Over the weekend both the GFS and Euro are calling for plenty of rain with Saturday looking like a washout and much of Sunday potentially being one too. Should the GFS have its way, Middle Georgia could see rain falling from Thursday evening until late Sunday evening. That obviously would lead to a widespread flood or flash flood potential by the time the weekend is over with. ANOTHER round of rain looks likely on Valentines day, which is next Tuesday. Middle Georgians would be wise to keep the rain gear out and ready to go ahead of another soppy pattern.
Follow Meteorologist Aaron Lowery on Facebook (Aaron Lowery 41NBC) and Twitter (@ALowWX) for weather updates throughout the day. Also, you can watch his forecasts Monday through Friday on 41NBC News at Daybreak (5-7 a.m.) and 41Today (11 a.m).