Middle Georgia to see cool temperatures for the first day of spring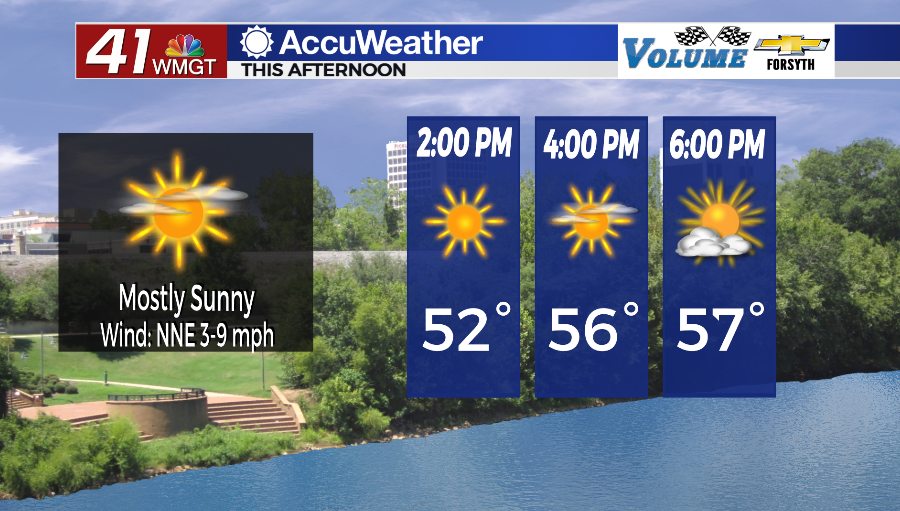 MACON, Georgia – (41NBC/WMGT) – Temperatures will only reach into the upper 50s across Middle Georgia later this afternoon.
Today

It will be a cool and calm afternoon across Middle Georgia. Highs, as mentioned above, will top off largely in the upper 50s today. Fortunately, winds will blow out of the northeast at about 5-10 mph and that's it; a big difference when compared to the cool start last week. A few cirrus clouds will pass through during the afternoon with more of them likely to fill in this evening. Despite the sun and relatively calm winds Middle Georgians should still keep a sweater handy.
Tonight cloud cover early will give way to clear skies ahead of tomorrow morning. Temperatures will bottom out around the freezing point for most of Middle Georgia heading into tomorrow morning. Winds will come from the northeast at around 5 mph.
Tomorrow

More cloud cover is expected Tuesday around Middle Georgia during the mid-afternoon hours. Overall conditions will be partly cloudy, but at times it may seem to be more than that. Temperatures will peak in the mid 60s around the region as the wind blows in from the east-southeast at 5-10 mph.
Tomorrow night expect partly cloudy to mostly cloudy conditions with low temperatures that only drop into the mid 40s. Winds will blow from the east at around 5 mph.
Wednesday and Beyond

Wednesday and Thursday will continue to see temperatures rise as sunshine largely sticks around through the rest of the week. By Thursday afternoon highs will likely be back in the 80s for most of Middle Georgia. Our next chance for rain will likely arrive Friday evening or overnight.
Follow Meteorologist Aaron Lowery on Facebook (Aaron Lowery 41NBC) and Twitter (@ALowWX) for weather updates throughout the day. Also, you can watch his forecasts Monday through Friday on 41NBC News at Daybreak (5-7 a.m.) and 41Today (11 a.m).