Middle Georgia residents to march in 'Justice for Kendrick Johnson' event
MACON, Georgia (41NBC/WMGT) — Middle Georgia residents are uniting to help get justice for the death of 17-year-old Kendrick Johnson.
In 2013, Johnson's body was found rolled up in a gym mat at Lowndes High School in Valdosta.
Kendrick's mother — Jacquelyn Johnson — and organizers will hold a peaceful march to encourage the GBI to reopen her son's case.
Event Information
According to a release, residents will gather at the Walmart on Harrison Road in Macon at 7 a.m. Saturday to drive to Valdosta for the event.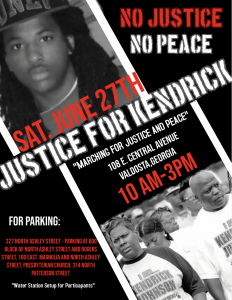 "We're having to learn to adjust to deal with what they have done, and the march is to keep bringing awareness of what happened to Kendrick Johnson," Jacquelyn said. "We want to let the world know to come out."
Kendrick's case was closed due to GBI medical examiners ruling the death an accident.
Jacquelyn says she hopes that new evidence can hold the people responsible for her son's death accountable.
Click here for more.