Mercer women's hoops falls at home to ETSU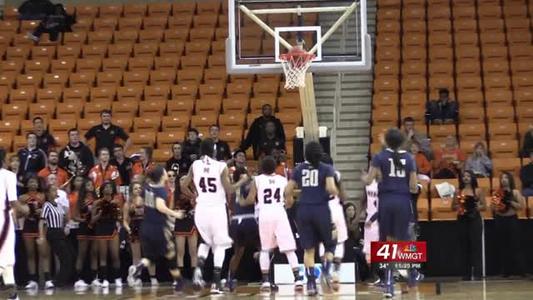 MACON, Ga. (MERCER ATHLETICS) – Kahlia Lawrence notched her third-straight career-high game with 22 points, while Precious Bridges scored 23, as the Mercer women's basketball team lost a heartbreaker to ETSU on Monday night at Hawkins Arena.
Teanna Robinson flirted with a double-double, tallying 11 points and nine rebounds, and added three blocks. Briana Williams recorded eight points, eight rebounds, two assists and a steal, and Alex Williams contributed eight rebounds, a block and a steal of her own.
Alicia Williams had five points, five rebounds and a block. Lawrence and Bridges each pulled down four rebounds, and Lawrence tallied four assists and four steals, while Bridges dished out a game-high six assists.
"Once again, we lost a close game that could have gone either way," said Head Coach Susie Gardner. "Precious (Bridges) got a good, albeit contested, look, but that's the shot we were looking for. It comes down to the little things throughout the course of the game, not just in the second half. We just have to pay more attention to the little things and I think our seniors need to figure out how they want to end their careers at Mercer."
Lawrence hit a layup just nine seconds into the second stanza, but ETSU answered with a three-pointer, keeping Mercer from gaining momentum early. The back-and-forth lasted for the first 2:06 of the half, before the Bucs scored five consecutive points to go up 39-31 with 16:57 to play.
The Bears answered with an 11-5 spurt that moved the score to 44-41 with 13:09 left in the game. After 8:15 of play with neither team taking control of the game, Bridges hit a jumper and Mercer began to show signs of a rally.
The Bears outscored the Bucs 10-4 over 3:14 to come within two, 72-70, with 40 ticks left on the clock. ETSU failed to get a shot off and turned the ball over with 7.6 seconds remaining. Bridges drove down the court and shot a jumper at the buzzer, but it bounced off the rim, keeping the Bears from forcing overtime.
Mercer recorded a 41.4 field goal percentage, with 100 percent of its points coming from inside the arc. ETSU connected on 44.3 percent of its shots from the field, including 52.9 percent from behind the three point line. The Bears outrebounded the Bucs, 42-34, and won the turnover battle, 8-12.
Mercer scored first, but ETSU answered with six straight points to go up 6-2 with 17:38 left on the clock. A basket for each team was followed by a 10-2 Buccaneer run that put ETSU up 18-8 with 12:49 to play before intermission.
A pair of layups from Alicia Williams and Robinson halted the Bucs' momentum and cut the lead to 18-12. A 7-1 spurt gave the Bucs their largest lead of the half, 25-13, with 6:57 to go. Mercer outscored ETSU 12-4 in the final minutes to cut the lead to 29-25 before entering the locker room.
Mercer connected on 33.3 percent of its shots in the first half, while ETSU notched a 34.5 field goal percentage. The Bears outrebounded the Bucs, 23-19, but the teams were tied in assists, 6-6, and turnovers, 5-5.
The Bears will hit the road to face No. 25 Chattanooga on Saturday, Jan. 31 at 3 p.m.