Macon Water Authority set to start $40 million project

MACON, Georgia (41NBC/WMGT)- The Macon Water Authority is celebrating the start of a $40 million capital project Tuesday morning.
The Pipe Turning Ceremony at the Rocky Creek Water Reclamation Facility on Mead Road is happening at 11 AM.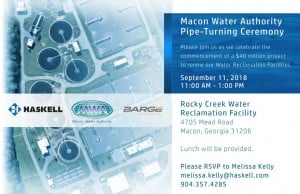 The project is set to improve the wastewater treatment operations at the Rocky Creek and Lower Poplar Plants. The last major investment by the Authority in these two plants occurred in the 1980's. Both facilities have features that have reached the end of their life cycle, and they now require replacement and/or rehabilitation.
In addition to renovating its two water reclamation facilities, the MWA has a major goal to install screening and grit removal equipment at the head end of each plant. This will make the wastewater treatment processes cleaner and more efficient.
One of the key upgrades to both facilities includes the purchase and installation of new rotary presses. They are critical to removing solids from wastewater during the treatment process.
Design services for the project began in 2017. Construction is expected start this month, and it will continue for at least 22 months.