Kemp tells republican voters they have more at stake now than ever before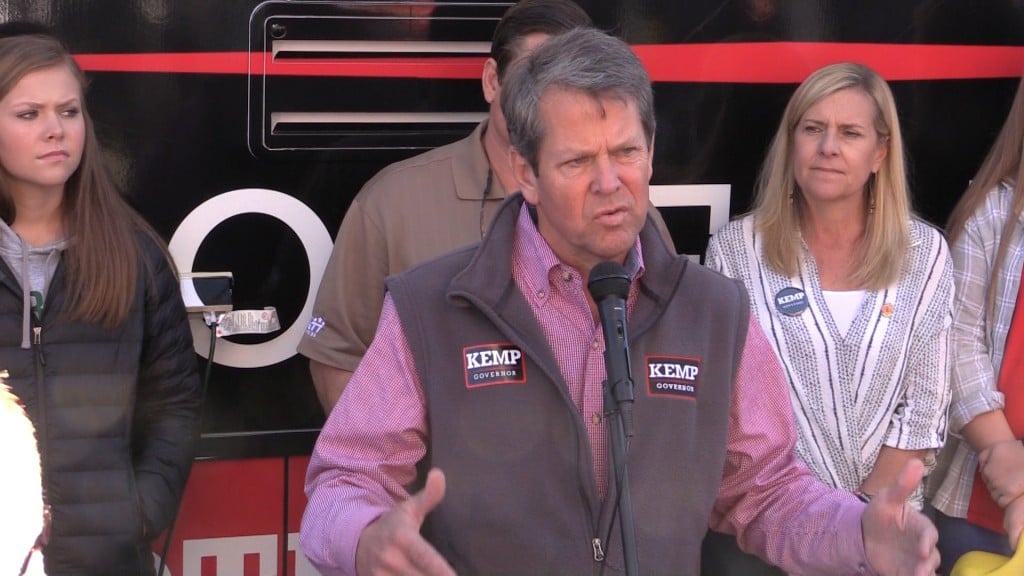 FORSYTH, Georgia (41NBC/WMGT) – Georgia's Republican nominee for Governor, Brian Kemp, made several stops in Middle Georgia on Wednesday as the countdown to election day continues.
"We only have six days to go so please don't leave any vote un-turned," Kemp told supporters at a rally in Forsyth.
He says republican voters have more on the line in this race than ever before after record breaking turn out from early voters in counties across the state and libreral outside influencers stepping in.
"We will always fight for your conservative values and not be afraid to do that. That is what's at stake in this election," he said. "We have literally billionaires from New York and California who are trying to buy this race," he continued.
Voters in Monroe County got to hear from Kemp and his campaign Wednesday morning on why they believe he's the best man for the job.
"We support and we need to fix the broken immigration system in this country but it's got to be legal. We cannot give government benefits or the hope scholarship or free college to those who are here illegally that will bankrupt the system."
In addition to his conservative ideals on immigration and second amendment rights, Kemp says he has plans to continue fully funding K-12 education and lowering taxes.
"He wants to keep Georgia conservative, he wants to reduce taxes, he's all about small businesses creating jobs," one voter told 41NBC.
He called his opponent Stacey Abrams too radical in her ideas for Georgia's future.
"They want to undo the great things that we have done and we will absolutely do whatever it takes to stand up Curtis to protect our second amendment," he said.
Kemp says he's confident he'll bring home the win and put a 'red wall' around Georgia. But he needs help from conservative voters to do it.
Kemp also made a stop in Warner Robins later Wednesday to speak with voters there. The biggest message from the rallies was asking republicans to not only vote but bring someone to the polls.