Hot weekend on deck for Middle Georgia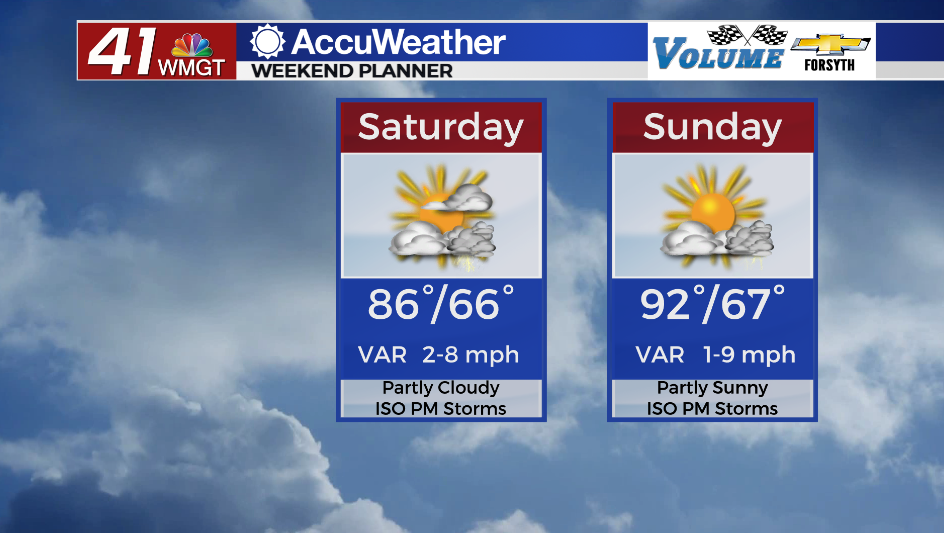 MACON, Georgia (41NBC/WMGT) – Middle Georgia will see temperatures climb into the 90s over the weekend following a cooler Friday afternoon.
Today

Middle Georgia will see cooler temperatures Friday afternoon in most places thanks to added cloud cover and increased storm odds. Scattered storms are likely throughout the afternoon and evening around the region. Lightning, thunder, some decent wind gusts, and even some really small hail will be possible with any storms that move through the area. Storms should also be short lived. Temperatures will top off in the low to mid 80s across the region with variable winds around 5 mph.
A few storms could linger into the early overnight hours, however after midnight the activity should subside. Fog will be possible anywhere that sees rain thanks to the added moisture and calm winds. Partly cloudy skies will hang around into Saturday morning with temperatures dropping into the mid 60s.
The Weekend

Partly cloudy skies are likely Saturday afternoon as temperatures rebound into the mid to upper 80s around the region. Heat indexes will push 90. Winds will be variable again around 5 mph with storm chances increasing during the late evening and early overnight hours.
Patchy fog will be possible overnight and into Sunday morning as temperatures drop into the mid to upper 60s.
Sunday will be the hottest day of the near future with highs reaching the low to mid 90s around Middle Georgia. Skies will be partly sunny with variable winds around 5 mph. Rain will be unlikely during the day, however overnight and into Monday morning some showers/storms will be possible. Temperatures leading into Monday morning will be in the upper 60s for most of the region.
Next week will bring more of what the region saw this past week as the summer pattern sticks around.
Follow Meteorologist Aaron Lowery on Facebook (Aaron Lowery 41NBC) and Twitter (@ALowWX) for weather updates throughout the day. Also, you can watch his forecasts Monday through Friday on 41NBC News at Daybreak (5-7 a.m.) and 41Today (11 a.m).