Hot weekend ahead, drier weather returns next week
MACON, Georgia. (41NBC/WMGT) – The first day of June is going to be a hot one in Middle Georgia.
High temperatures will be in the low 90's, though it will feel even hotter (closer to 100) due to high humidity.
If you're planning on attending any outdoor events this evening, like the Macon Bacon home opener at Luther Williams Field, a few showers or storms will develop. However, rain is not expected to be widespread or last long.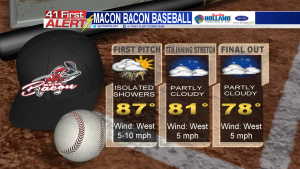 One way to stay cool this weekend is to take a dip in a pool. Anyone spending time outdoors should wear sunscreen or other protective wear (sunglasses, hats, etc.). The UV Index will be very high.
It will be about 90 degrees on Saturday and 92 on Sunday, but both days will have heat indices in the mid-upper 90's. Heat indices combine temperatures and humidity to relate how hot it will feel.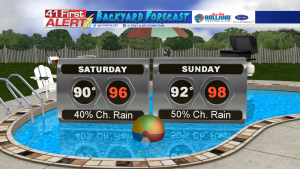 Rain chances will increase this weekend as a cold front pushes into the southeast (FINALLY!). Following the front, drier and slightly cooler air will filter in across Middle Georgia. There will be less moisture in the air and lower humidity Monday.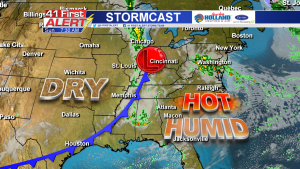 Temperatures will dip back into the 80's next week as the cold front moves in and out of Middle Georgia. There will be a drying trend, with little/no chance for rain through mid-week. Morning lows will also return to the 60's for a cooler/more comfortable start to the day.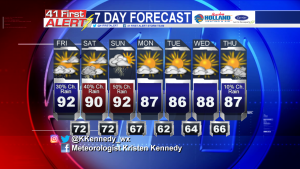 Connect with Meteorologist Kristen Kennedy on Facebook and Twitter for weather updates throughout the day. You can also watch her forecasts Monday through Friday on 41NBC News at Daybreak (5-7 a.m.) and 41Today (11 a.m.).