Hot, humid weather is here to stay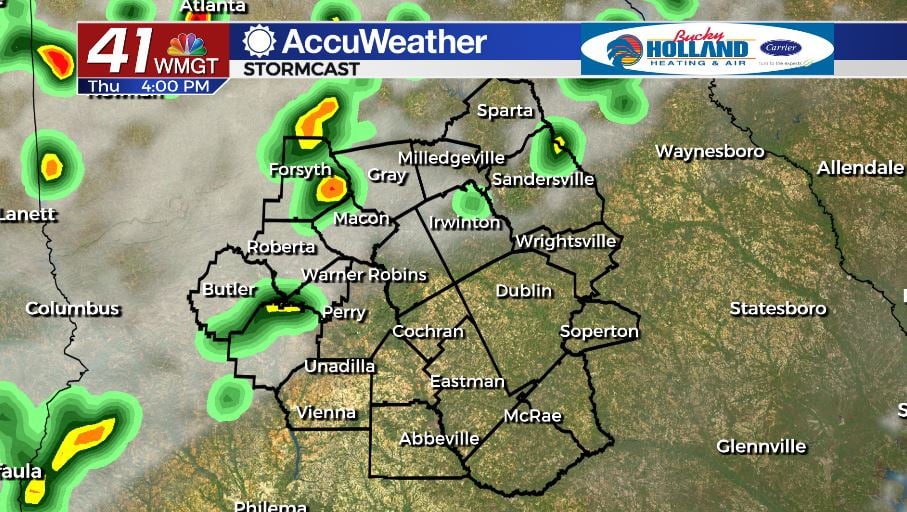 MACON, Georgia. (41NBC/WMGT)- Temperatures will close in on the middle 90's this afternoon in spots with rain chances back on the rise.
TODAY.
Temperatures will warm quickly into the 90's this afternoon under a partly sunny sky. A few showers and thunderstorms are possible, but most of us will stay dry. Tonight, a few showers are possible but overall we will look to stay dry with overnight lows falling into the upper 60's and lower 70's.
TOMORROW.
Better coverage of rain is expected tomorrow as we wrap up the work week. Thanks to the added cloud cover temperatures will only warm into the upper 80's and lower 90's. Scattered showers and thunderstorms will impact afternoon and evening plans. Rain should come to a close quickly after sunset. Friday night we will see temperatures falling to near 70° all across our area.
WEEKEND & BEYOND.
Our summertime pattern will continue through the weekend and into next week. Saturday will pose the best chance for widespread rain.
Follow Meteorologist Dalton Mullinax on Facebook (Dalton Mullinax 41NBC) and Twitter (@MullinaxWX) for weather updates throughout the day. Also, you can watch his forecasts Monday through Friday on 41NBC News at Daybreak (6-7 a.m.) and 41Today (11 a.m).