Highs in the 90s expected Tuesday afternoon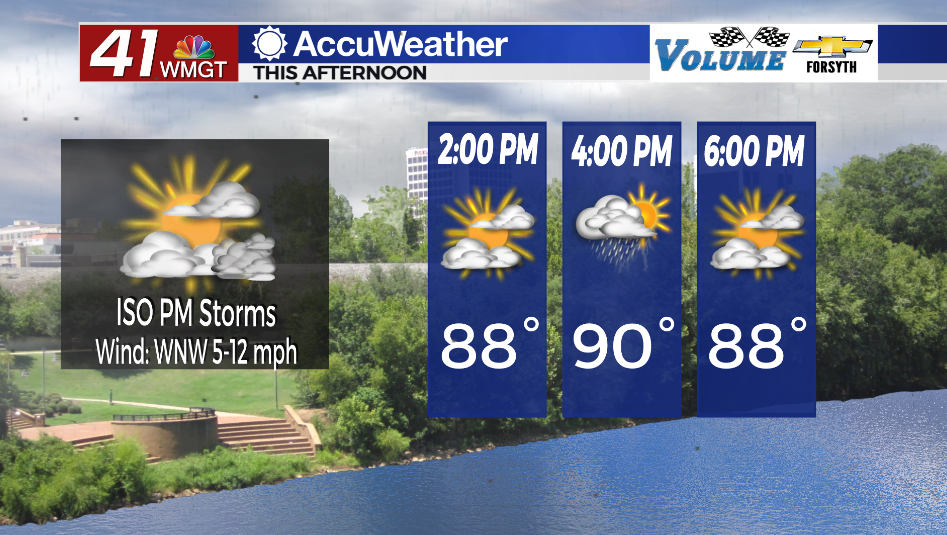 MACON, Georgia (41NBC/WMGT) – It will feel like summer outside with temperatures climbing into the 90s this afternoon.
Today

Partly cloudy skies will be with Middle Georgia again throughout the day today. As the sun takes over more in the late afternoon hours, some isolated thunderstorms will be possible. Temperatures will peak in the upper 80s and lower 90s with most heat indexes in the lower 90s. The wind this afternoon will help to take the edge off, however, as it blows in from the west-northwest at about 10-15 mph. Gusts could reach as high as 20 mph (even stronger with any storms that move through).
Tonight storm activity will subside with a good bit of cloud cover moving out of the area. An isolated shower or two could persist through the overnight hours. Spots in Middle Georgia that receive the most rain could wake up to some patchy fog rolling into Wednesday morning. Overnight lows will mainly be in the mid to upper 60s.
The and humid conditions will continue for the foreseeable future.
Follow Meteorologist Aaron Lowery on Facebook (Aaron Lowery 41NBC) and Twitter (@ALowWX) for weather updates throughout the day. Also, you can watch his forecasts Monday through Friday on 41NBC News at Daybreak (5-7 a.m.) and 41Today (11 a.m).