Highs in the 80s return Thursday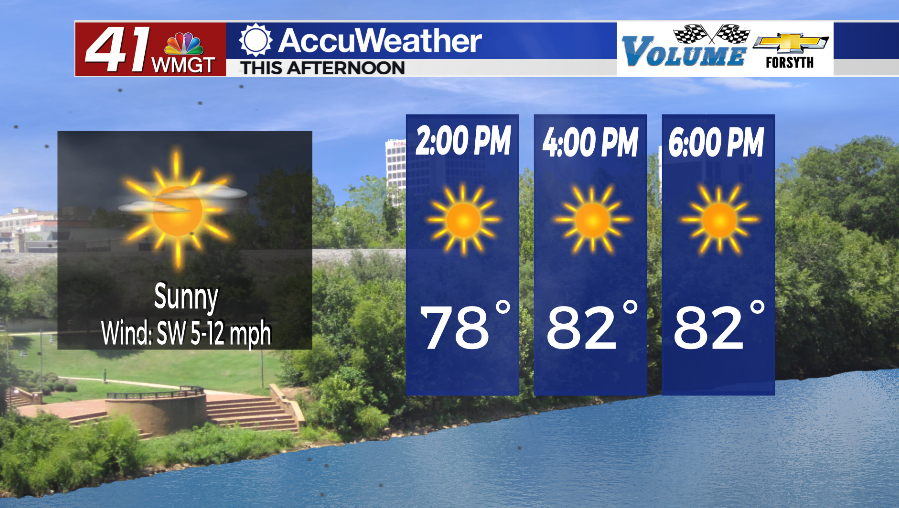 MACON, Georgia (41NBC/WMGT) – Temperatures continue to climb Thursday afternoon as sunny skies stick around.
Today

Sunny conditions will hang with Middle Georgia all day following a cloudy morning. A few cirrus clouds will hang around, but that will be all. Temperatures will largely peak in the low to mid 80s across the region. Winds will blow from the southwest at 5-12 mph with gusts upwards of 20 mph. Middle Georgians with plans outdoors this afternoon should wear sunscreen; UV index values around the region are hovering around the 9 mark this afternoon (approx. 15 minutes before burning begins).
Tonight skies will remain clear as the winds back off a good bit. Temperatures and dew points are expected to be in the mid to upper 50s by tomorrow morning, so more fog will be likely around Middle Georgia to begin our Friday.
Tomorrow

Sunny skies will stick around again for Friday afternoon as temperatures heat into the mid to upper 80s. Winds will again blow from the southwest at about 5-15 mph. Gusts could reach as high as 20-25 mph. Some mid-level cloud fields will be possible in the afternoon, however UV indices will likely still reach 9 or higher.
Tomorrow night cloud cover will begin to fill in, especially as we head towards the sunrise on Saturday. Temperatures will only drop into the mid 60s around the region as overnight winds blow from the south-southwest at 5-15 mph. Gusts could still reach upwards of 25 mph. Rain is unlikely ahead of the sunrise Saturday.
This Weekend

Saturday will be a mostly cloudy day, however it will still be rather warm as highs climb into the 80s again. A couple of isolated small showers will be possible during the late morning and lunchtime hours before the late afternoon spawns some scattered thunderstorms. The Storm Prediction Center has issued a Level 1 "Marginal" threat for severe weather on Saturday for all of Middle Georgia, however recent model runs continue to show less intensity with storms as well as dropping rain totals. Not everyone in Middle Georgia will see rain Saturday, and a squall line of thunderstorms is not expected Saturday either. High pressure camped off the east coast of Florida will break the incoming cold front down as it pushes towards Georgia.
Sunday and and the start of next week look rather gloomy before sunshine returns midweek. Temperatures will also be on a steady decline.
Follow Meteorologist Aaron Lowery on Facebook (Aaron Lowery 41NBC) and Twitter (@ALowWX) for weather updates throughout the day. Also, you can watch his forecasts Monday through Friday on 41NBC News at Daybreak (5-7 a.m.) and 41Today (11 a.m).