High pressure sits over east coast, hot and humid conditions continue
MACON, Georgia. (41NBC/WGMT) – Gordon made landfall late Tuesday night as a Tropical Storm with sustained winds of 70 mph. Landfall occurred just west of the Alabama/Mississippi state border, near Pascagoula.
Since making landfall, Gordon has moved inland bringing heavy rain to west Alabama and central Mississippi. Outer rain bands moving onshore have produced some severe weather along the coast, spotty tornado warned storms with potential for spin-up tornadoes.
The threat still exists for severe weather in these areas, as well as heavy rain producing flooding. However, there will be no impact to Middle Georgia.
Gordon is forecast to weaken as it continues moving northwest.
A high pressure system sitting over the east coast of the United States will help steer Gordon west/northwest in the coming days.
This high pressure system will also bring an easterly wind into the deep south, pumping more moisture from the Atlantic Ocean over the southeast.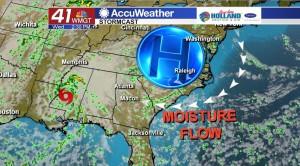 With added moisture in the atmosphere, there will be higher humidity, which means it will feel even hotter than the actual temperatures.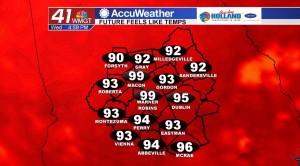 The high pressure system that's been creating hot and humid conditions across Middle Georgia is not expected to weaken this week. For this reason, there will be little changes in the forecast from day to day.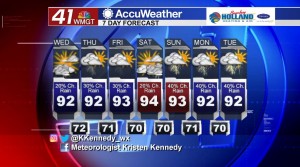 Connect with Meteorologist Kristen Kennedy on Facebook and Twitter for weather updates throughout the day. You can also watch her forecasts Monday through Friday on 41NBC News at Daybreak (5-7 a.m.) and 41Today (11 a.m.).