Heavy Rain Ahead This Weekend
MACON, Georgia. (41NBC/WMGT) – We are dealing with freezing temperatures once again in Middle Georgia.
Today.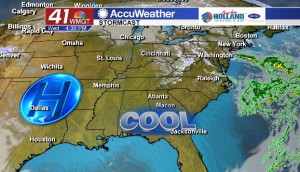 This afternoon is going to be very similar to yesterday afternoon minus the fact we will be a few degrees cooler. Yesterday we had an afternoon high temperature of 58° in Macon which was 5° below the average for this time of year. The trend of below average temperatures will continue today as an area of high pressure centered to our west is ushering in cooler and drier Canadian air from the northwest. This air has suppressed rain chances over the past couple of days and will continue to do that until we get into the weekend. Overnight tonight we will see temperatures dip into the mid-to-upper 20's across Middle Georgia. Make sure you are taking the necessary precautions ahead of frigid temperatures.
Some suggestions include:
Bring your pets inside! If you wouldn't like being outside in the cold temperatures they probably don't either.
Allow faucets to drip to reduce chance of freezing pipes.
Cover outdoor water spigot's.
Tomorrow.
More high clouds will begin to stream in on your Thursday afternoon as temperatures struggle to make it out of the low 50's. Clouds will continue to build in through the overnight hours and will give us a partly cloudy sky on Friday.
Weekend.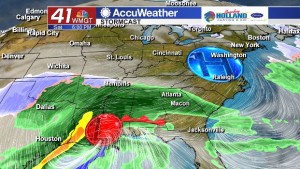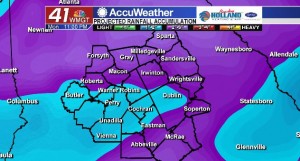 We will see a lot of rain fall across Middle Georgia this weekend. The high pressure that has kept us dry for the past couple of days is going to scoot towards the New England region setting up a typical "wedge" pattern. As that is happening, an area of low pressure is going to hug the Gulf of Mexico coastline before moving across south Georgia on Sunday. Temperatures all weekend will struggle to make it out of the 40's so it is going to be wet and cold weekend. I am expecting rainfall amounts to total 1″-3″ across our area.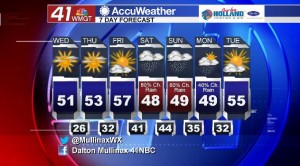 Connect with Meteorologist Dalton Mullinax on Facebook (Dalton Mullinax 41NBC) and Twitter (@MullinaxWX) for weather updates throughout the day. You can also watch his forecasts Monday through Friday on 41NBC News at Daybreak (5-7 a.m.) and 41Today (11 a.m.).