Groundhog Day sees more clouds and rain around Middle Georgia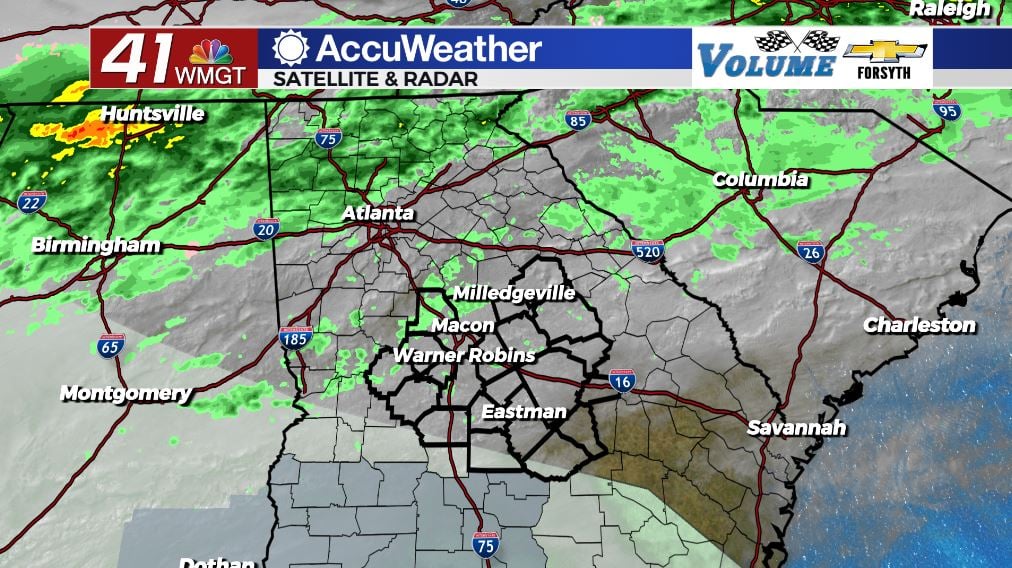 MACON, Georgia (41NBC/WMGT) – Rain chances will climb for Middle Georgia throughout the day on Thursday.
Today

Most of Middle Georgia will be stuck under a blanket of clouds throughout the day today. On a related note, General Beauregard Lee did not see his shadow up in Jackson, GA due to the cloudy and wet conditions (This means he is calling for an early start to spring). Only the furthest southeastern counties are likely to see some sun during the day today. Showers will largely hang around the northern counties until the lunchtime hours. At that point some showers may begin to fire up in the southern counties. Temperatures will peak this afternoon in the upper 50s and lower 60s for most of Middle Georgia, however the furthest south locations may push more into the mid to upper 60s. Ambient winds today will largely blow from the north-northwest at about 2-10 mph.
Rain will become more widespread throughout the evening as that ever slow moving cold front stalls out over the Atlanta area. This will result in more widespread stratiform rain for the northern 1/3 to 1/2 of the region and the southern half to continue to see scattered showers. The heavier stratiform rain will not continue to push south until the overnight hours – likely after midnight. The ever slow moving cold front will become stationary until the actual cold front from the north comes in and shoves it out of the way.
That "shoving it out of the way process" will happen pretty quickly. The stratiform rain will push south after midnight – possibly 2-3 am or later – taking over all of Middle Georgia during the sunrise hours tomorrow. Make sure to not only have your rain gear ready, but also a jacket with some substance to it. Wind chills will be in the upper 30s and lower 40s for most of the region out the door tomorrow morning thanks to northerly winds of 3-15 mph. Gusts could push upwards of 25 mph. Low temperatures tomorrow morning will actually be in the low to mid 40s, however.
Tomorrow

Rain will be widespread to kick off our Friday in Middle Georgia, however that northerly cold front is going to push the stationary one out ahead of lunchtime. Some cloud cover may linger until later in the afternoon, especially in the southern counties of the region. However, by day's end most of if not all of Middle Georgia should be seeing sunshine. Temperatures in the afternoon will peak in the low to mid 50s and ambient winds will blow from the north-northwest at 5-15 mph. Gusts could still push 25 mph throughout the afternoon.
Conditions overnight will be clear and cold as lows drop below freezing in many parts of Middle Georgia. Winds will be variable but out of the north at about 5-12 mph.
Sunny conditions will stick with us Saturday before another round of clouds and a chance for showers comes right back on Sunday.
Follow Meteorologist Aaron Lowery on Facebook (Aaron Lowery 41NBC) and Twitter (@ALowWX) for weather updates throughout the day. Also, you can watch his forecasts Monday through Friday on 41NBC News at Daybreak (5-7 a.m.) and 41Today (11 a.m).