Gordon Mayor Whipple-Lue: 'For many years, the whites have been in control'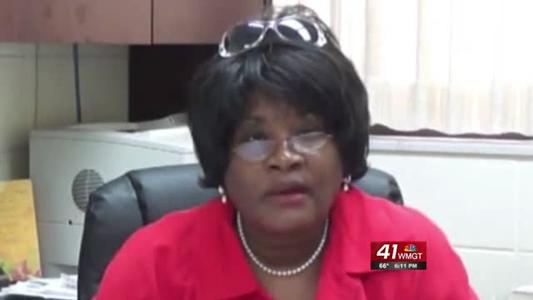 GORDON, Georgia (41NBC/WMGT) –
Gordon Mayor Mary Whipple-Lue is naming a forensic audit as the reason there's so much discord in the city right now, and she accused the media of distorting the truth.
She recently interviewed with online video blogger George Boston Rhynes of Getto Free Press.
"For many years the whites have been in control, and now God has allowed me for such a time as this, to become mayor of the city of Gordon," Whipple-Lue said.
That's how she began her interview with Rhynes, but her words didn't just focus on the city. In fact, 41NBC's Tucker Sargent was brought up in conversation.
"I was talking to an individual last night, and he was a member of the press. And he said to me, and I think you were standing next to him. And he said that he wants to talk to you and interview you, but you would not consent to an interview. Remember last night?" Rhynes asked.
"Yes I do, candidly," Whipple-Lue said.
"And what was your answer?" Rhynes said.
"My answer is because of that, no comment. The truth has been distorted and he's a part of that same media, I'm sorry. I think that brought me to this point. Just no comment," Whipple-Lue said.
"So I guess you're saying that until they convince you that they are going to be fair and not one sided that you just refuse to," Rhynes said.
41NBC has repeatedly been ignored for interviews and has only reported what citizens have said about her administration.
At one point in the interview, Whipple-Lue refers to a letter–a letter 41NBC obtained from a Gordon resident, and never published because the Mayor would not confirm to us that these were her words. 41NBC would have gladly published the letter, but we check our facts first.
"They would not publish it. And with the media, every word of truth that I gave them, they redirected it by editing and not giving the full truth," Whipple-Lue said during the interview.
In Whipple-Lue's eyes, the truth is that she asked for an audit, and people, and the media are against her for it.
"They have not been people friendly, everything that I have said and stated to them is distorted truth. The problem they have is no one wants to tell the truth. There is corruption apparently due to my request for a forensic audit," Whipple-Lue said.
And 41NBC's request for an on-camera interview was denied again Thursday. Our own Taylor Terrell did sit down with the mayor one on one, but she refused to let our cameras roll.
To watch Whipple-Lue's full interview click here.